Rod Stewart said, "Fast cars like Porsches and Ferraris- they are things of beauty."
Cars add to the grandeur and status of a person. In a world where luxury knows no bounds and innovation is the mother of all, the realm of automobiles boasts an exclusive club of extraordinary extravagance. 
Get ready to experience the arena of "10 Most Expensive Cars in the World." These automobile giants redefine the boundaries of technology and engineering. On the other hand, it also defines the wealth of a person. After all, the price tags reach such high astronomical numbers. But not to forget, there is no compromise in the performance, and it's always extraordinary. 
From sleek sports cars to limited edition supercars, join the journey through a rarefied universe where automotive dreams become tangible. Also, the pursuit of perfection knows no fiscal limit. Buckle up to explore the pinnacle of automotive luxury.
Also Read: The World's 10 Most Expensive Homes: Exploring the Pinnacle of Luxury
Most Expensive Cars
Let's dive straight to the list now: 
1. Rolls Royce Boat Tail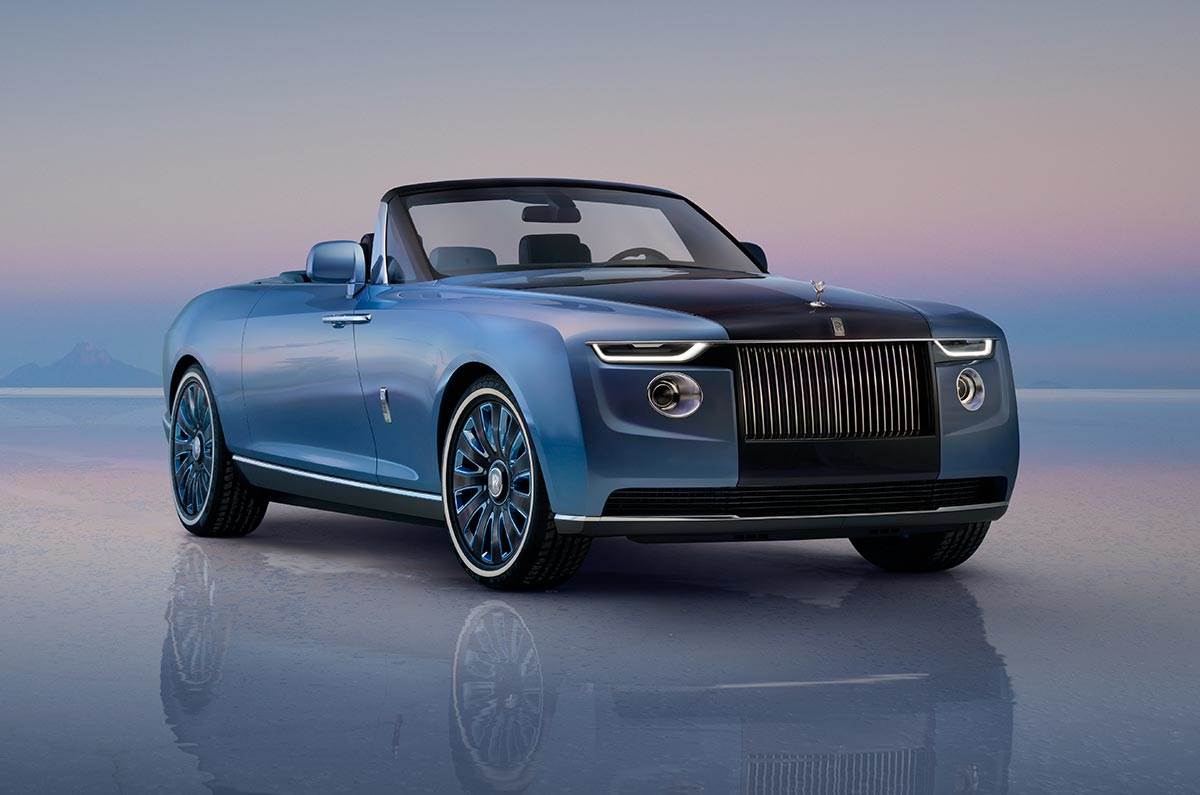 One of just three that have ever been manufactured, Rolls-Royce Motor Cars is proud to unveil the latest instalment of its Boat Tail coach-built commission. Hence, there is nothing to be surprised about when it gains the position of the most expensive car in the world. The exact price isn't known yet but is estimated at around $28 Million.
Each commission from Rolls-Royce Coachbuild conveys a story that is wholly unique and individualised to its owner, reflecting their history, preferences, and sensitivities. With this in mind, Boat Tail is a masterpiece of restraint, subtlety, elegance, and attention to detail. It was unveiled at Concorso d'Eleganza, Villa d'Este 2022, on the banks of Lake Como in northern Italy.
​​The body panels of this most expnsive car are hand-made from large, single sheets of aluminium, giving it the distinctive shape that was inspired by racing yachts from the early 20th century. This extraordinary automobile is utterly unique in every way.
This expensive car was ordered by a patron whose father started in the pearling business and grew the family business. The customer is a well-known supporter of the arts and has a sizable collection of vintage and contemporary automobiles displayed in a dedicated private museum. He is well-travelled, well-educated, and cosmopolitan in his interests and inspirations.
Oyster and soft rose make up the colour's base, while big white and bronze mica particles give it a notable iridescent aspect that softly changes depending on the lighting. Fine bronze and gold-coloured aluminium mica flakes are combined with a crystal and frosted matt clear finish on the contrasting cognac-coloured bonnet, designed especially for this Boat Tail and add warmth and depth to this expensive car's appearance. Boat Tail's technical fibre lower sills have a rose gold woven thread.
Boat Tail's distinctive "butterfly-design" hosting suite is housed on the rear deck, which is covered in Royal Walnut wood and has rose gold-plated pinstripes inlaid throughout with a satin-brushed finish for a refined appearance. The client specifically requested the Royal Walnut since wood has lovely characteristics as it ages and would eventually take on the tonal characteristics of the cognac tint. In contrast to the high-gloss front and side viewpoints, the frosted bonnet and tactile wooden rear deck appear to have a harmonious balance and satin effect from above.
2. Buggati La Voiture Noire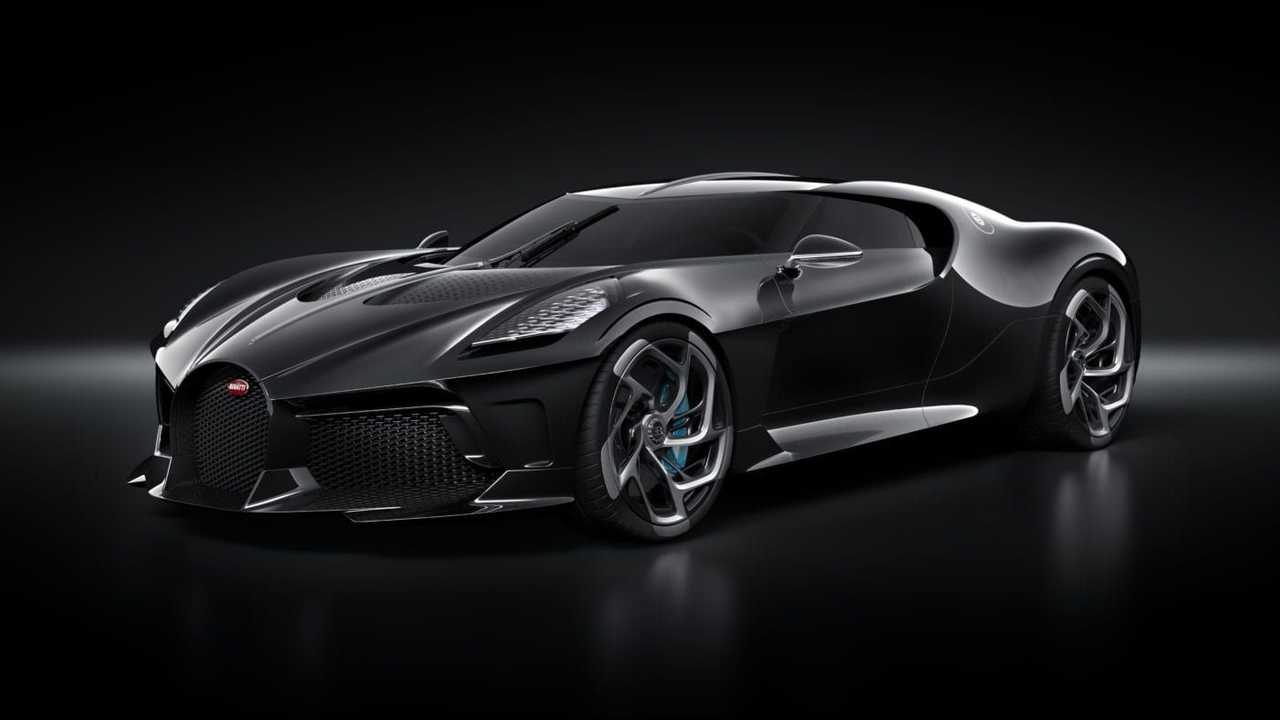 The La Voiture Noire1 is a fantastic sculpture with flawless form and is entirely black. Within two years, this one-of was explicitly made for a Bugatti fan. A piece of vehicular haute couture is now being produced as a result of considerable testing and development. Right now, this piece of art is second in the world's most expensive cars. The value of the car is around $18.7 million.
Due to its focus on the fundamentals, clean lines, and lack of a vast, dominating rear wing, the La Voiture Noire is a minimalist coupe similar to the Atlantic from that era. The designers produced a particular shape from a stylistic and technical standpoint while reinterpreting the essence of the vintage vehicle. This features the enlarged front part, the clear lines, the precise dorsal seam down the centreline, and the romanticism of the back. They produced a bodywork with a special surface treatment – visible carbon fibre with a clear coat known as "Black Carbon Glossy" – with tremendous attention to detail. There is a lot of stress and drama but hardly any reflections.
While the windscreen and side windows meld together to form the appearance of a helmet visor, the bumpers are subtly integrated into the bodywork. The surface of this one of the most expensive car looks to have been cast in one piece since there are no distracting lines; nothing breaks the eye's natural flow. As a result, the automobile adopts the attitude of a grand tourer instead of a super sports car. A certain feeling of drama is created by stripping things down to their bare necessities and drawing this essence of beauty and elegance from the surface.
3. Pagani Zonda HP Barchetta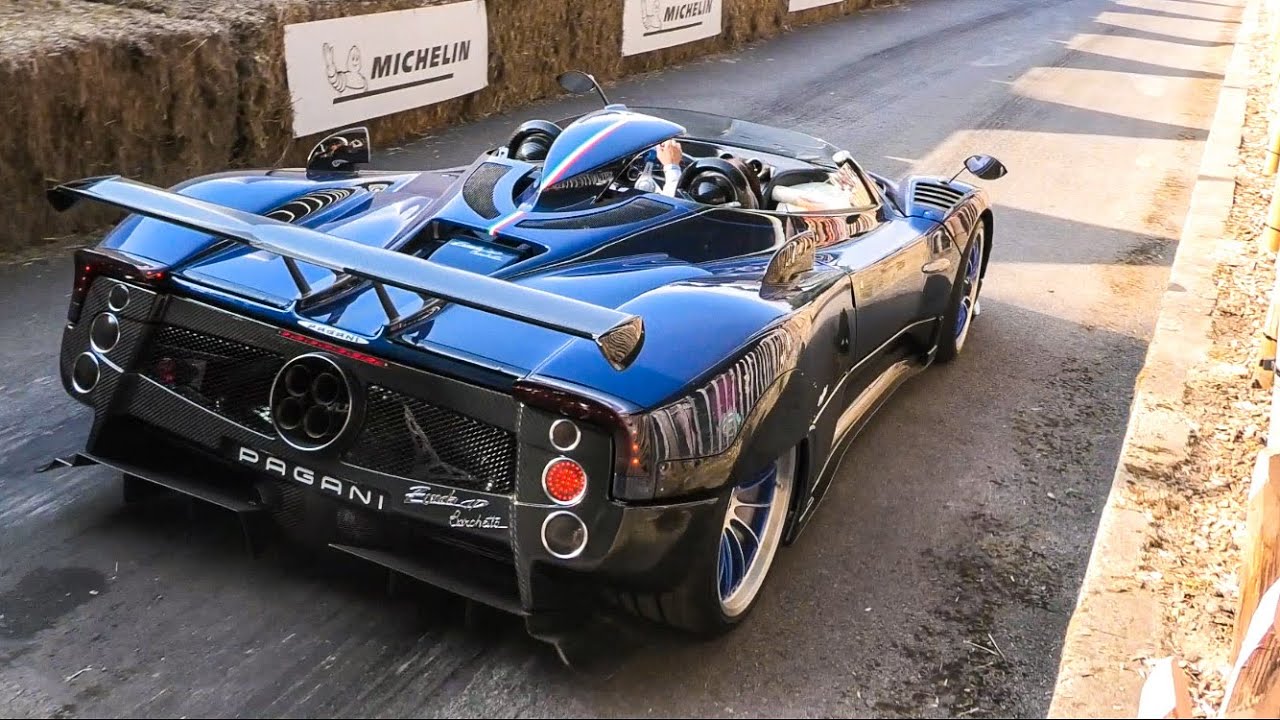 This is the second time the car has made it to the most expensive cars list. Its value is going up to around $17.9 million, and this car is nothing less than the definition of luxury and good looks.
The Italian automaker Pagani created the limited edition supercar called the Zonda HP Barchetta. Only three of HP Barchetta's initial models were made after its 2018 debut. This is one of the most expensive car ever made by them. Much hasn't been revealed about the car yet, but inevitable leaks have notified about the car's specifications. 
With red accents, the HP Barchetta has a distinctive exposed carbon fibre finish. The Pagani Zonda HP Barchetta's official fuel economy rating is unavailable because it is a high-performance supercar. The supercar can reach a high speed of around 220 mph (354 km/h). The HP Barchetta has a detachable carbon fibre roof and innovative aerodynamics that adapt to the car's speed and driving circumstances.
4. Rolls-Royce Sweptail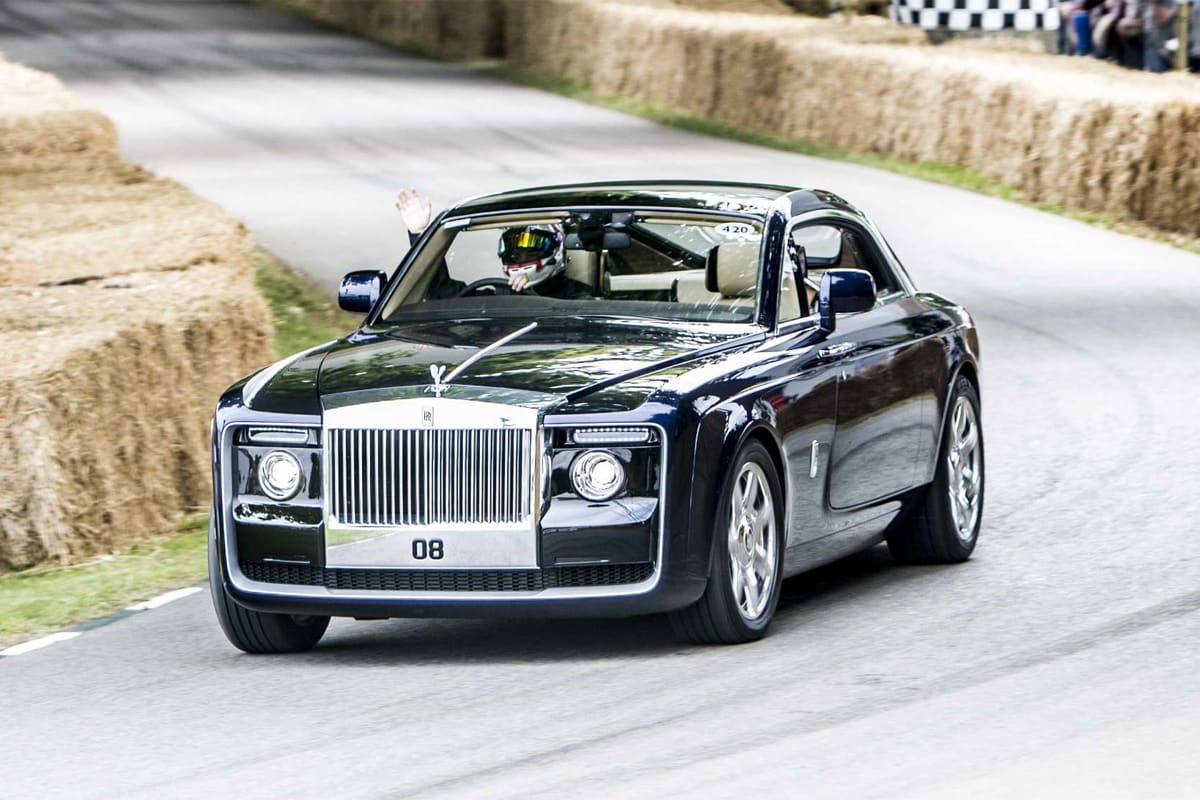 For the Rolls-Royce Sweptail, this is its second time getting a position in the most expensive cars list. The Sweptail, with its luxurious setting and unique demeanour, stands at a price of $13.2 million. 
This custom-built, one-of-a-kind vehicle has a 453 horsepower V12 engine and is frequently referred to as the automotive equivalent of haute couture. Rolls-Royce Motor Cars created and produced the custom luxury vehicle, the Sweptail. It was initially presented in 2017 at the Concorso d'Eleganza Villa d'Este in Italy. The Sweptail was built for a client who asked Rolls-Royce to produce a unique vehicle that fused traditional aesthetics with contemporary technologies.
The Sweptail is painted with a unique "Sweptail Blue" paint created especially for the vehicle. The Rolls-Royce Sweptail is a custom vehicle that has not been used extensively; hence, its actual mileage is still being determined. The Phantom VII Coupé's aluminium space frame, carved with the Sweptail, was discontinued in November 2016. But now it has made its comeback, and that too, what a comeback this is. 
5. Bugatti Centodieci
Luxury can come in small packages, and this expensive car is the proof. This car is a prospective C2-segment Coupe from Bugatti that can accommodate up to 2 passengers. The Bugatti Centodieci stands at number five on the list of the most expensive cars in the world.
The car hasn't been launched in the market as of yet but is expected to be here by August 2024, with its value going up to $9.1 million. A limited-edition hypercar with an outrageous price tag is the Bugatti Centodieci. Under the hood, it houses an 8-litre, W16 quad-turbocharged engine with 1,600 horsepower. All four wheels receive the massive power created thanks to a 7-speed dual-clutch gearbox. It accelerates from 0 to 100 mph and has an electronically regulated top speed of 380 mph. 
The renowned Bugatti EB110, a sports automobile made by the company in the 1990s, has been paid homage by the Bugatti Centodieci. It has a striking aerodynamic wedge-shaped form that gives it a futuristic appearance. This expenisve car's body is primarily built of carbon fibre, contributing to its light curb weight. It has four exhaust ports at the back and an unusual 8-unit LED taillight system. The Centodieci has a stunning appearance, and its aerodynamic design improves performance and stability.
This is one of the most expensive car yet lacks several of modern vehicles' latest safety and driver-assist systems. It does, however, have a minimal set of safety features. It has anti-lock braking, traction control, an electronic stability control system, and airbags. It lacks sophisticated driver assistance technologies such as adaptive cruise control, lane keep assist, and automatic emergency braking.
The Centodieci's body is entirely comprised of lightweight carbon fibre, which provides outstanding strength and rigidity while protecting the driver and passengers in the case of a collision.
Also Read: Top 10 best luxury hotels
6. Lamborghini Veneno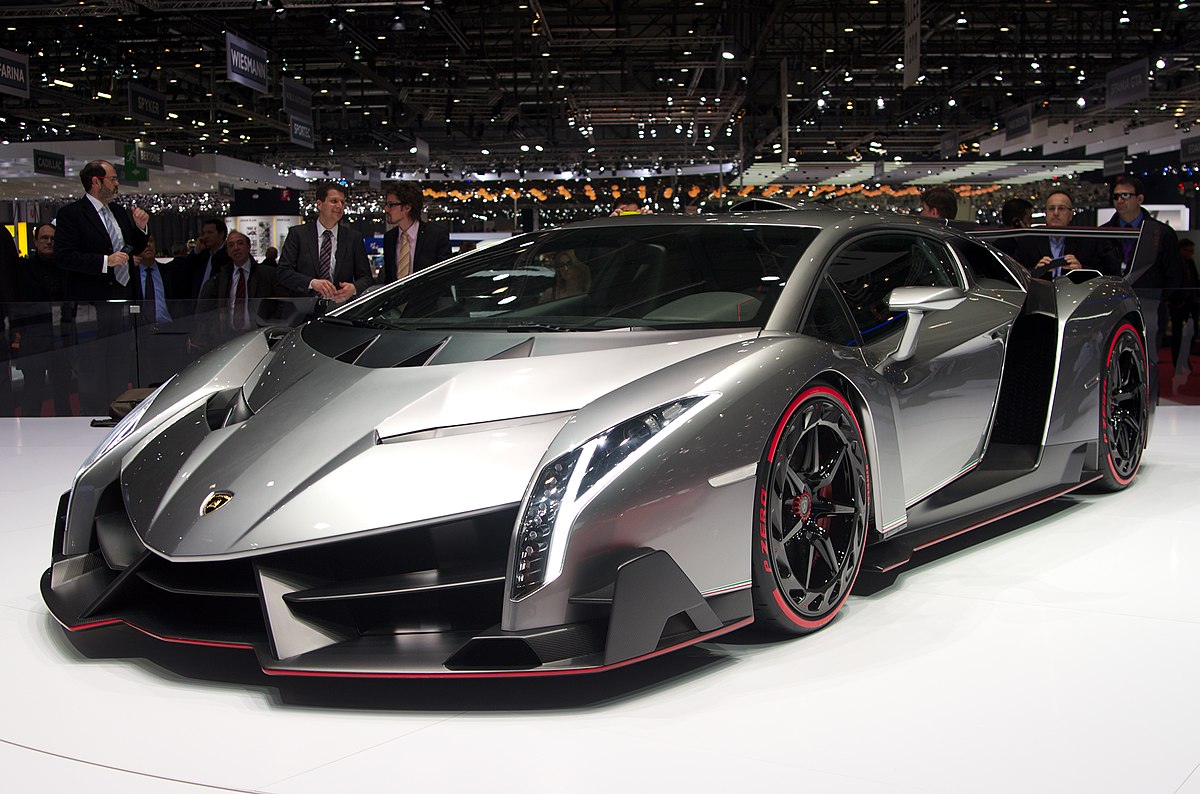 The Veneno can be considered a leap of faith for Lamborghini regarding the tech and advancements of the near future. Priced at $8.3 million, this is one of the most expensive car with a hard to resist speed. 
The Lamborghini Veneno is the Italian automaker's ultra-exclusive and extremely restricted hypercar which happens to be one of the most expensive cars as well. It has a 6.5-litre naturally aspirated V12 engine that produces 740 horsepower. The engine is combined with a semi-automatic gearbox and all-wheel drive. It is based on a carbon fibre monocoque chassis, which delivers remarkable strength and rigidity while remaining lightweight. With its extraordinary performance, aerodynamic brilliance, and futuristic design, the Veneno pushes the boundaries of automobile engineering.
The Lamborghini Veneno has a bold and muscular style that appears to be futuristic. Every aspect of this supercar's design has been optimised for aerodynamic efficiency. Its entire body is designed to generate high levels of downforce while reducing drag. The front end is defined by sharp LED headlamps, an elongated front splitter, and substantial air intakes that cool the engine while optimising aerodynamics.
This one of the most expensive car features a massive rear wing and diffuser that work together to generate significant downforce. Its Y-shaped taillights are eye-catching and add to its visual attractiveness. Like the Koenigsegg Jesko, the Veneno has a lightweight carbon fibre monocoque chassis. In conjunction with the exterior carbon fibre body, the carbon fibre chassis provides excellent rigidity and safety while minimising weight. 
With cosmic curves and a 6.5-liter V12 engine, this roadster has a top speed of 221 mph. Unsurprisingly, it's on the list of the most costly cars.
7. Maybach Exelero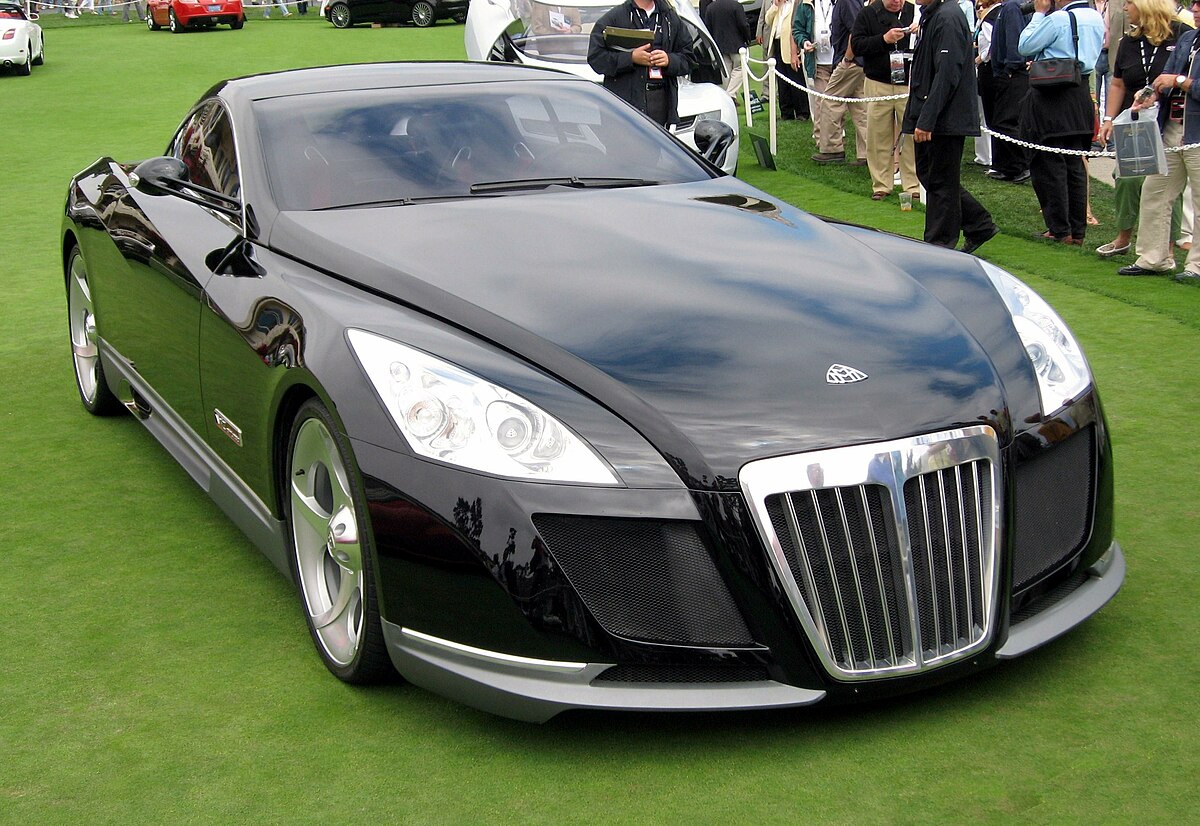 This car is the epitome of experiments and so it deserves to be on the most expensive car list. Standing at a value of $8 million, this car was just supposed to be a test for the new tire technology.
The Mercedes-Maybach Exelero is a one-of-a-kind premium automobile that debuted in 2005 and still stands strong on the most expensive cars list. It was a collaborative Mercedes-Benz and Maybach project, and its design was influenced by the 1930s Maybach SW 38. The Exelero was designed to display both firms' capabilities and to act as a high-performance testbed for Fulda tyres.
The Mercedes-Maybach Exelero coupe is the sole model available. The Mercedes-Maybach Exelero gets 13 miles per gallon in the city and 21 miles per gallon on the highway. The Maybach Exelero boasts a V12 engine, which is nearly never seen in a car designed for daily use. The tyre maker, Exelero, needed to test a specific tyre on a large automobile, and it only gets a little lighter than a V12.
All of that power makes this expensive car unique in the realm of concept automobiles. It has exceeded 217 mph with over 700 hp, and the Batmobile-like design gives it a unique exterior look and entices people.
8. Bugatti Divo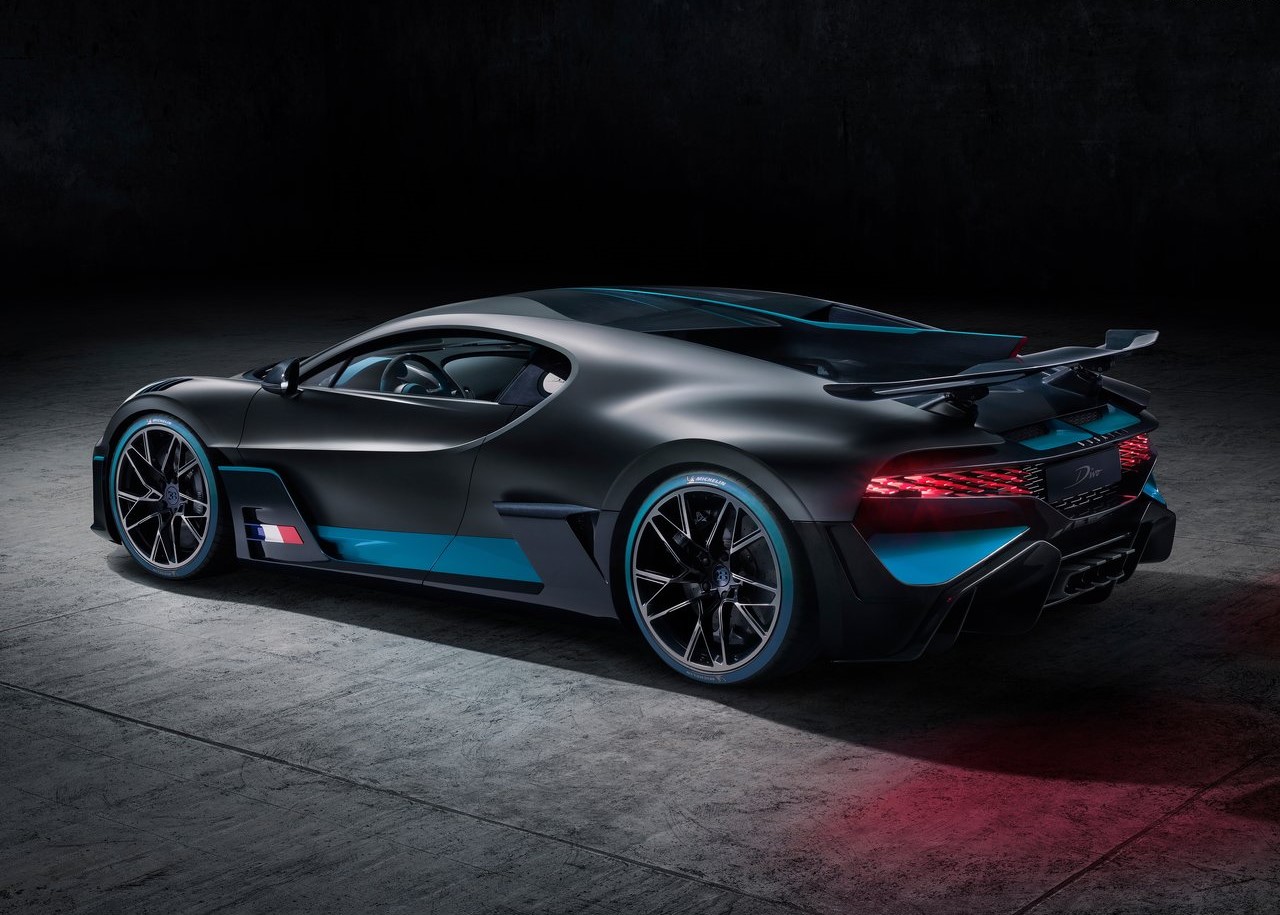 The car only has 40 others of its kind and has a value of around $5.7 million. While it has the same engine as the Bugatti Chiron, its striking styling makes it distinctive, making it another one of the most expensive car.
The Divo is a Chiron tuned to 11, and its aerodynamics have been thoroughly rectified. As a result, it has a revised front end with an optimised aerodynamic package. Unlike the Chiron, the Divo suffers with straight-line speed for lateral acceleration (1.6Gs). In layman's terms, it corners exceedingly quickly. The back wing is 23% larger than on the Chiron. The chassis has been substantially recovered to make it more rigid. Regarding output, the Divo weighs 35kg less than the Chiron while producing 90 kilograms more downforce.
The Bugatti Divo has the same eight-litre quad-turbo W16 engine. This engine also propels the Chiron, producing a massive 1500PS peak power and mated to a 7-speed dual-clutch gearbox. Whereas the Chiron and Veyron had top speeds of 400+ km/h, the Divo had a top speed of 380 mph. The Bugatti Divo, on the other hand, is designed to give the best performance on the road. It has already proven its worth by being eight seconds faster than the Chiron on the Nard tackling circuit in Italy.
9. Koenigsegg CCXR Trevita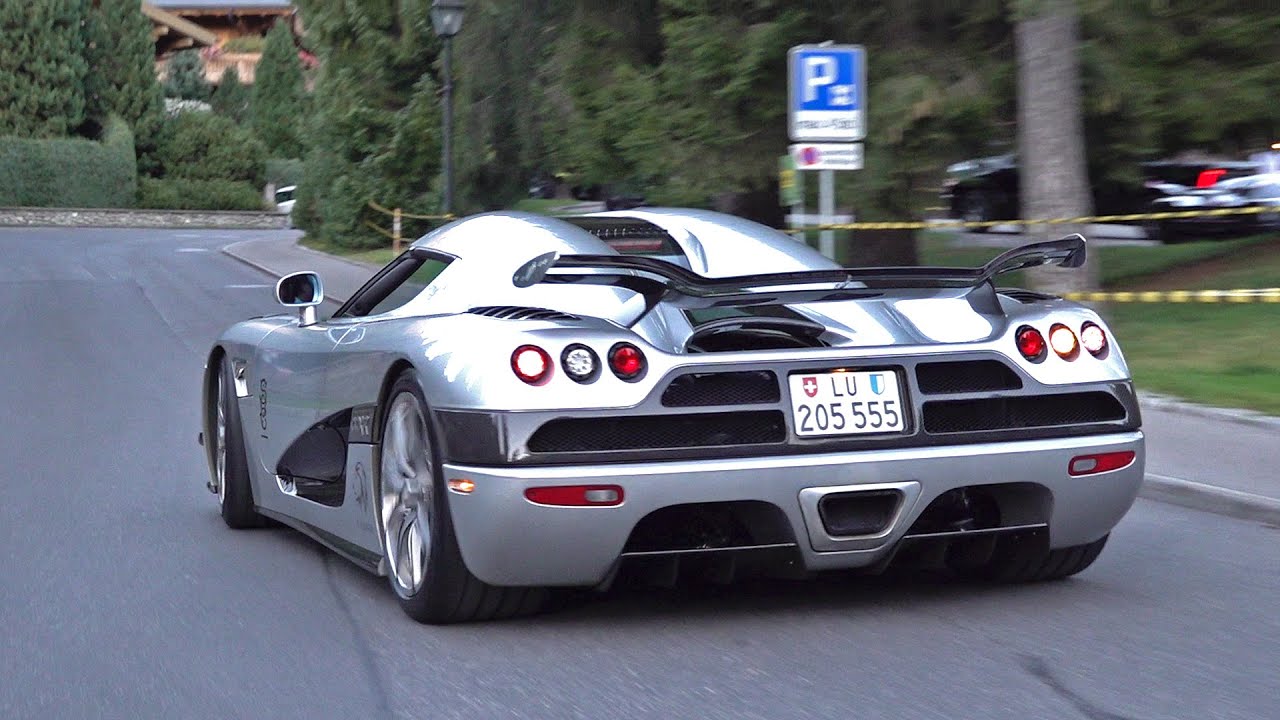 Koenigsegg, the brand, is less famous than the others on this most expensive cars list. But, the Trevita stands out and has given itself the tag of a brand and has landed on the most expensive cars list. Standing at a value of $4.8 million, this Swedish car has some of the best features it can boast about. 
Trevita, a special edition of the now-retired CCXR, gets its name from the Swedish for "three whites." It boasts the same 4.8-litre twin-supercharged V8 as the CCXR and is made of Koenigsegg's proprietary diamond-coloured carbon fibre. It is designed to run on biofuel and can create 1,018 horsepower. The CCXR's pinnacle expression could be considered a final hurrah before the ancient record-breaker was ultimately discarded. Only three of them were ever manufactured, as befits a last special edition of a boutique manufacturer's supercar.
Much has yet to be revealed about this expensive car. But around 40 cars of this kind will be made, and as far as the data shows, ten have already been pre-booked. 
10. Aspark Owl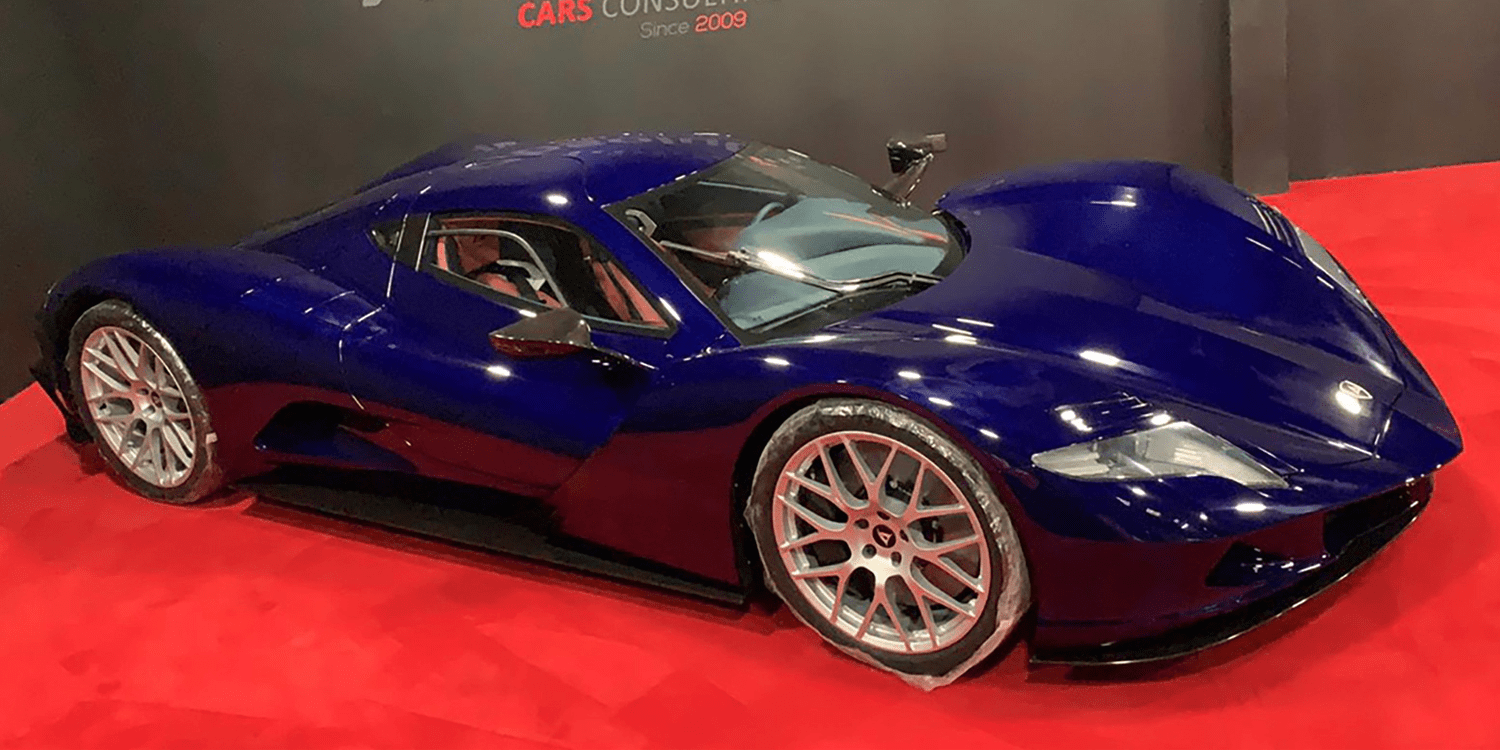 The last one on our list of most expensive cars is the Aspark Owl. This is the most expensive electric car in the world, worth $3.3 million. 
We initially saw footage showing it setting a 1.9 second 0-60 mph time in a car park in 2018, and the internet doesn't have the best long-term memory. So, if you need a pick-me-up, the Owl is a Japanese electric hypercar with 2,012bhp, a range of 250 miles, and a 0-60mph time of 1.72 seconds. Yes, it has improved since 2018.
Despite all of the promises, we have yet to see an actual production version. We were even promised that it would go on sale in 2021. However, Aspark believes it is still on the way, so it has taken a prototype onto the streets of Monaco to remind the world that the Owl exists. When it does arrive, it will be produced in Italy by Manifattura Automobili Torino, and we've been told that 50 will be sold.
Final Thoughts
These 10 most expensive cars epitomise motor engineering, luxury, and artistic design at its pinnacle. They are more than just automobiles; they are emblems of prestige, performance, and excessive wealth. These expensive cars are exceptional masterpieces destined for the ultra-wealthy, with astronomical costs that have climbed enormously over the years. The expensive cars' luring features and looks make everybody dream of owning these beasts once in their life. After all, luxury can be experienced through dreams, and dreams do come true. 
Also read: World's 6 most expensive motorcycles