Since the heyday of Hollywood, Rolex in movies has held a sacred place in the industry, connoting strength and sophistication. It has also been closely associated with significant turning points in the history of the feature film.
The world's most incredible billboard is the silver screen. In addition to the apparent visual component, you also have the opportunity to provide product explanations, link products to attractive movie stars, and, in certain situations, even give the wristwatch a unique personality that viewers will always connect with.
A character's choice of wristwear, or lack thereof, can reveal much about them. Many characters in film history have worn timepieces and clothing that have become incredibly popular or durable over time. A business can become extremely wealthy through clever product placement, but it also has a genuine and palpable emotional impact on our cultural landscape.
The first-ever Greenroom at the Academy of Motion Picture Arts and Sciences' annual Academy Awards was designed and hosted by Rolex in 2016, thereby solidifying the brand's association with the motion picture industry. This partnership of Rolex and movies still exists today.
This year, the brand drew inspiration for its decor from Hollywood and film studios, outfitting the backstage area with art deco-style wall panels that showcase the classic Rolex watch features, such as hands, fluted bezels, and indexes, arranged in vibrant mosaics to portray the Los Angeles cityscape. The Path, the brand's most recent ad film that honoured the craft of filmmaking, was also on exhibit, complete with script and images.
How can you determine a character's motivations? There are other films where the big-name star wears a wristwatch to match, including Jacob Palmer in Crazy Stupid Love (Ryan Gosling), David Sanders in The Deep (Nick Nolte, top), and Michael Vronsky in The Deer Hunter (Robert de Niro) hence establishing the Rolex and movies relationship.
Look at some top-notch Rolex in movies over time. 
Also Read: Most Expensive Watches in the World
Top Rolex in Movies
American Psycho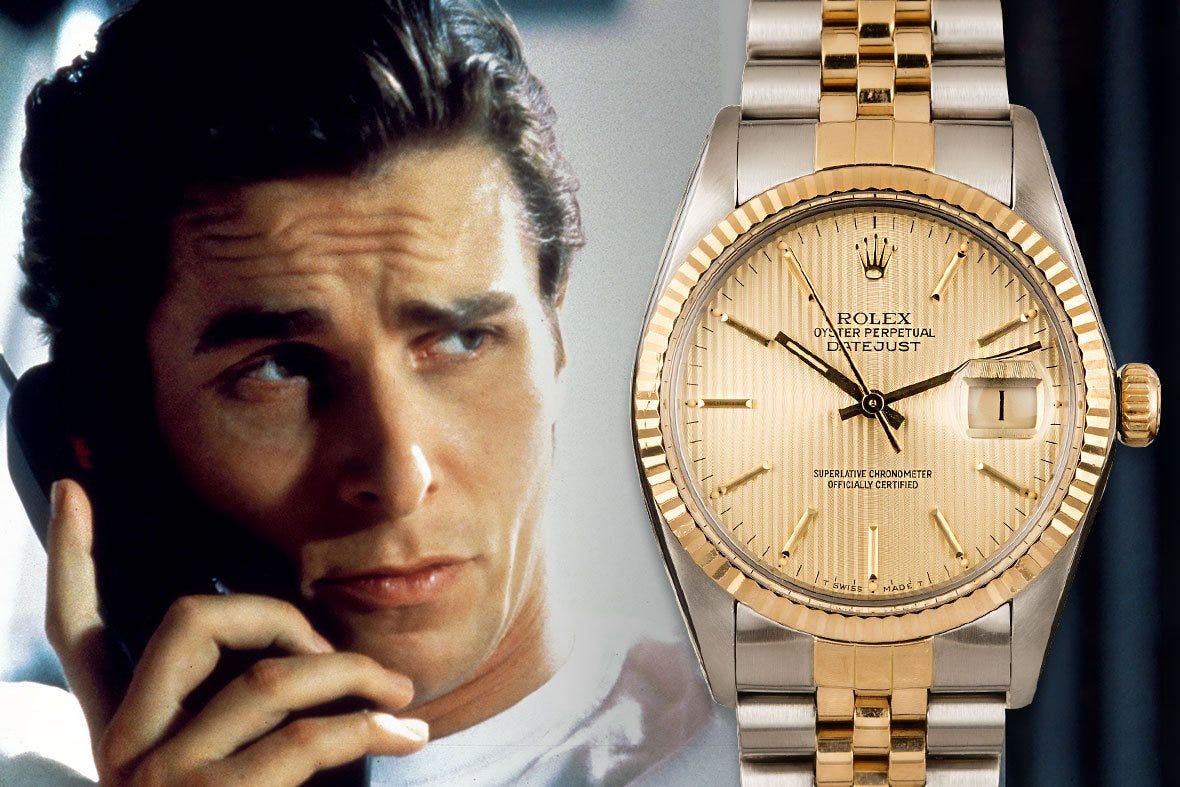 Patrick Bateman, the lead character of American Psycho, has emerged as a surprising pop cultural figure and is one of the best examples of Rolex in movies. Christian Bale's character is fashionable and well-groomed, even though he is a crazed killer. Consequently, it should be no surprise that viewers focused extra attention on his watch—a 36mm, two-tone Rolex Datejust reference 16013 with a tapestry dial and Jubilee bracelet—during the movie.
The narrative takes place in New York in the 1980s, a time when two-tone watches made of gold and stainless steel were very fashionable. American Psycho has developed into a genuine cult classic since its 2000 premiere. The watch that Bateman wore was so iconic that many collectors still refer to it as the "American Psycho Rolex."
Wolf of Wall Street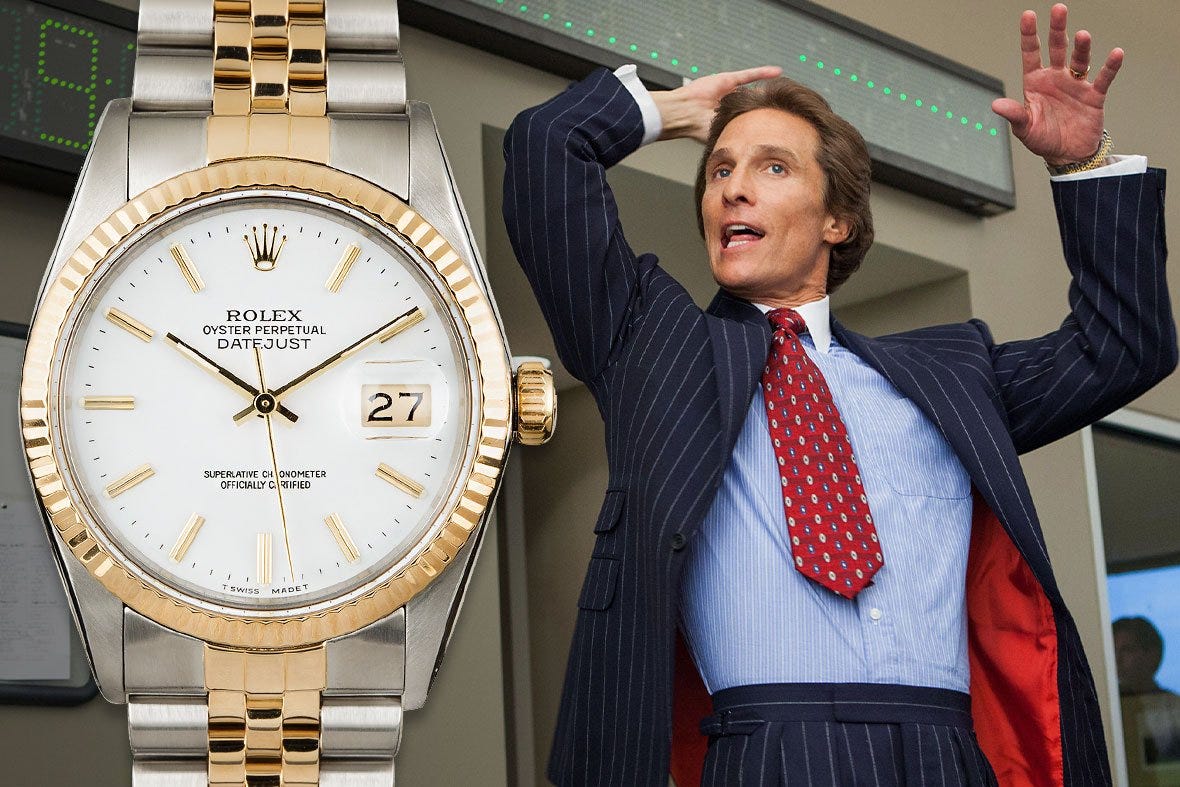 In this 2013 masterpiece, Matthew McConaughey portrays the anarchic Mark Hanna. Hanna embodies the ideal of the time in all its perfection. To put it mildly, he is a genius whose approaches and routines are highly unusual. In numerous ways, the guys shown in the movie were actual wolves. That was a dog-eat-dog world where you had to be a little wild to live.
A perfect symbol of authority, the Rolex Datejust can also be used by individuals such as Mark Hanna to hide their true identity from the outside world. To gain someone's trust, a classy watch and a well-fitting suit go a long way. Among his best-ever investments, no doubt about it.
Dr. No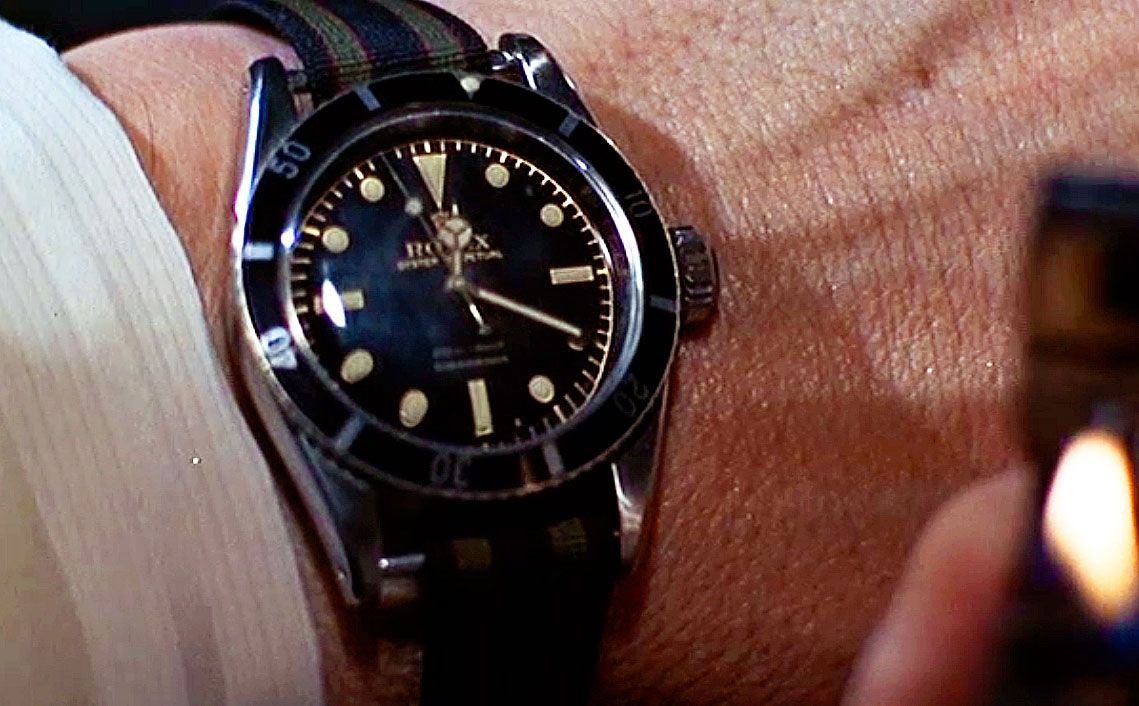 The only brand Bond creator Ian Fleming mentions explicitly in his works is Rolex, even though James Bond has as many watches as he does women. Draped in mystery, Sean Connery donned a black-dialed Rolex Submariner in the first Bond film and hence the portrayal of Rolex and movies connection.
Live and Let Die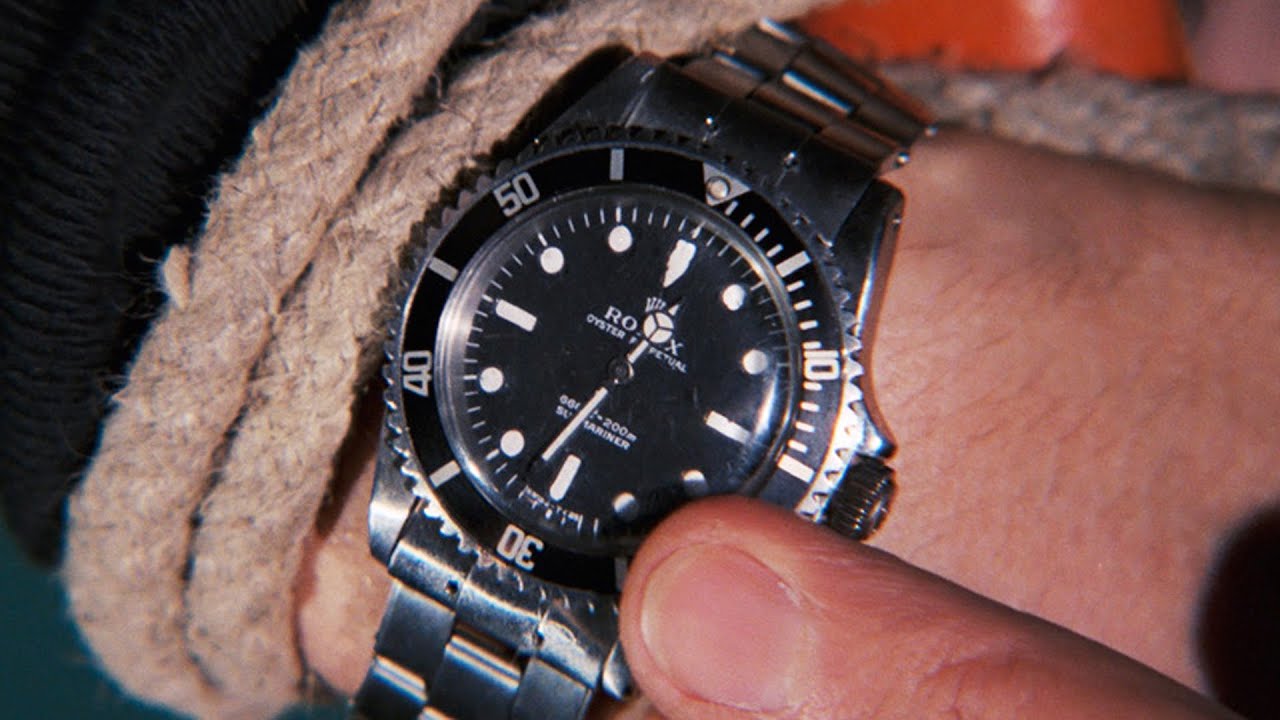 Like Sean Connery in Dr. No and Ian Fleming's character in the novels, the original Bond was a constant wearer of Rolex watches and Bond movies are a great example of Rolex in movies. However, it was Q from the big screen and his department of ingenious devices that made sure 007's wristwear was capable of more than just telling the time. Roger Moore's Submariner in Live and Let Die could create a magnetic field, and its bezel could function as a little buzz saw.
Glengarry Glen Ross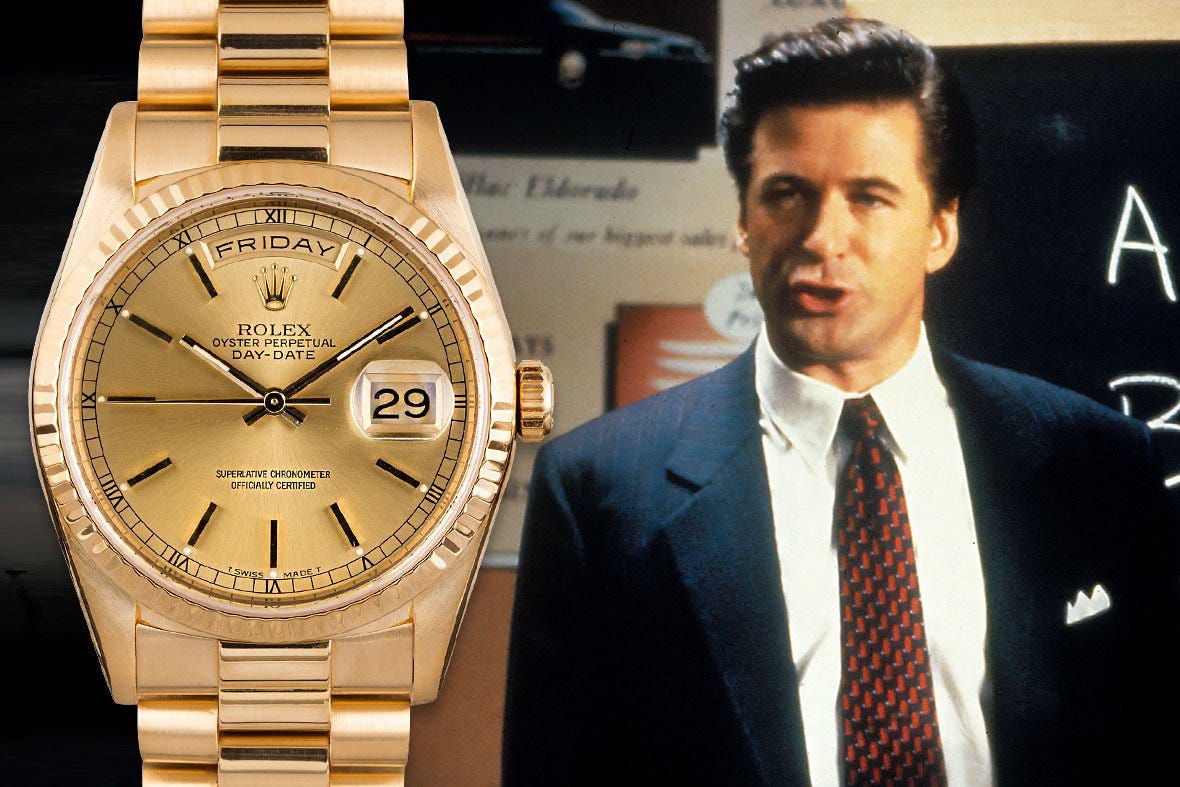 See this watch, you? The chief salesperson in David Mamet's 1992 film Glengarry Glen Ross, whose worries are a little more tangible than those of Martin Luther King, boasts, "That watch costs more than your car." Alec Baldwin wore a gold Day-Date watch that was a status symbol of the age and a sign of achievement. This is not to suggest that it is not a stunning composition and is a great presentation of Rolex in movies. 
Also Read: Most expensive earrings in the world
Get Carter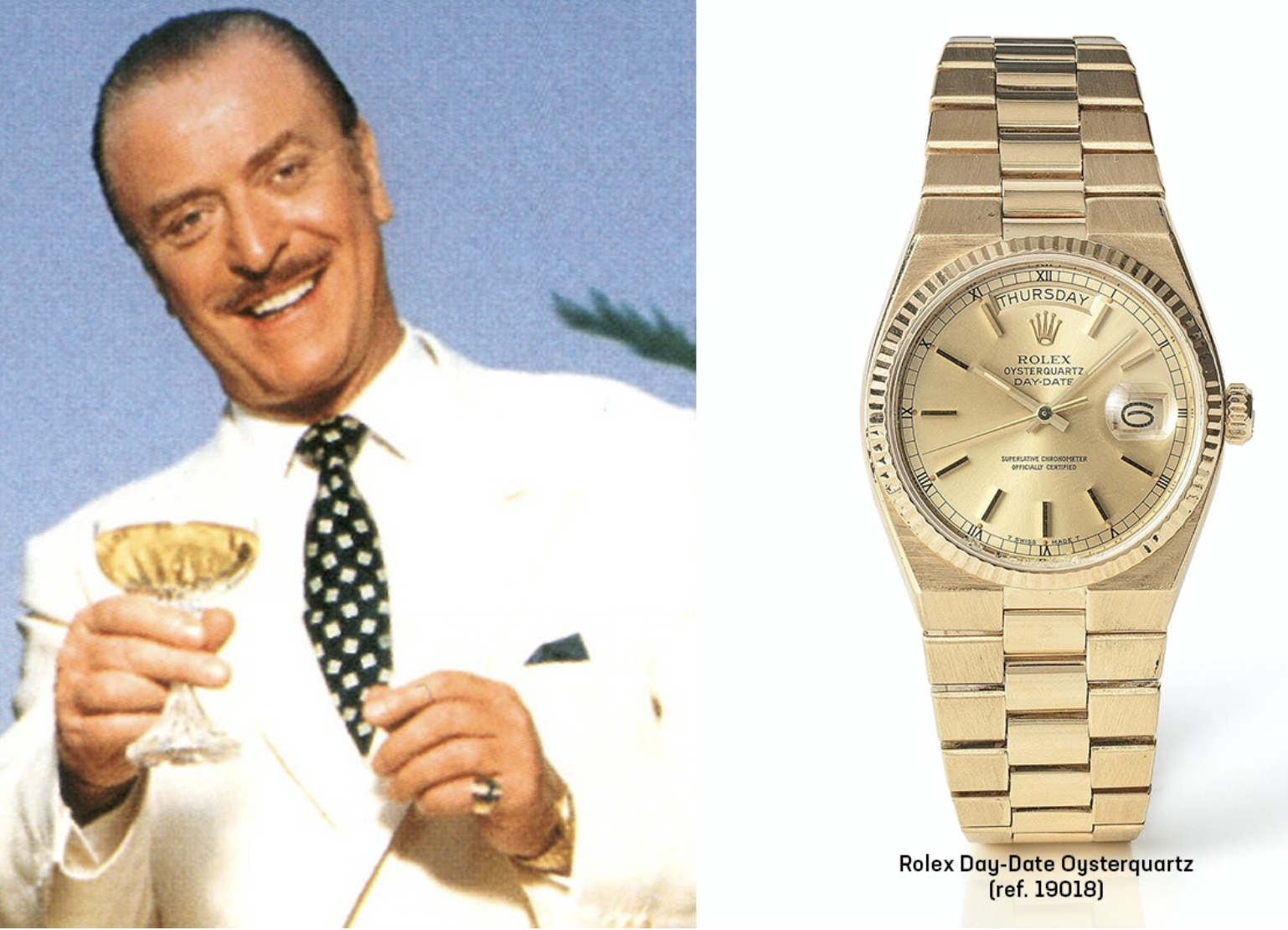 The Datejust watch is a rare sight in Get Carter, and when it does show up, it's usually overshadowed by the shotgun's barrel. However, it is evident of his position that Jack Carter, played by Michael Caine, wears one to go with his Doug Hayward suit. It has a gold dial on a brown leather strap and is another great addition to the Rolex in movies collection. When The Daily Telegraph reviewed the movie in 1971, they commented, "Carter, of course, is a paragon of strength, intelligence, ruthlessness, sexual attraction and even a dry sense of humour."
Selma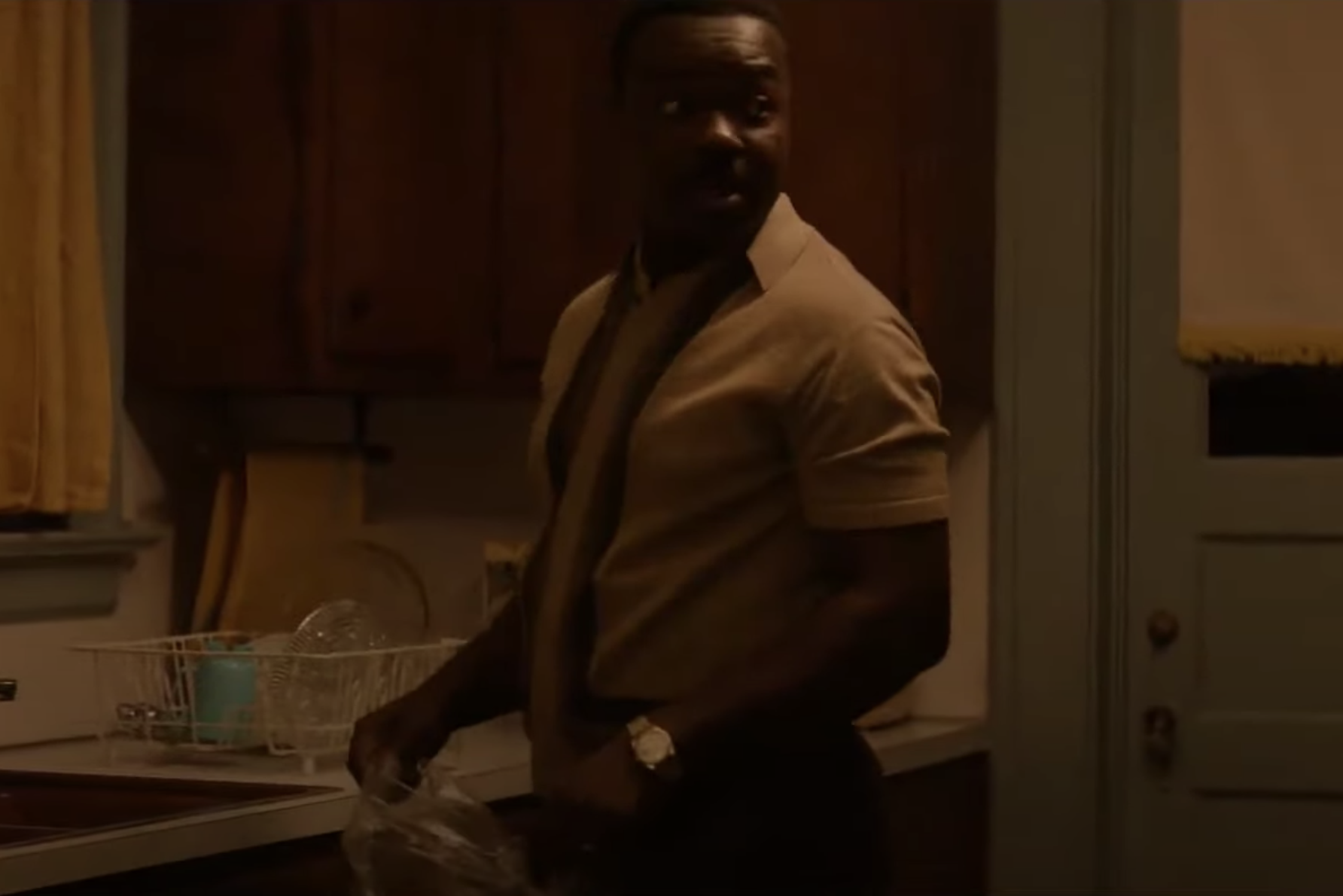 Filmmakers may seek a Rolex in movies while clothing fictional characters to give a protagonist of their creation more weight. However, the content of the 2015 biopic Selma, which is on Dr. Martin Luther King Jr., came from the man himself and David Oyelowo's depiction of his pivotal role in the civil rights struggle. It was just a matter of historical record that King preferred to wear a yellow gold Rolex Datejust as his watch.
Jaws
Jaws may have had a more psychological impact on people than any other film, which was advantageous for Rolex in movies—whose relationship with adventure and knowledge was subtly highlighted in the film—and detrimental to sharks.
Richard Dreyfuss's shark specialist and Robert Shaw's vicious shark hunter were both sport Submariners, so it was a double-edged sword for the brand. Behind the scenes, a third person was wearing a Rolex watch: Peter Benchley, the writer of the first book and the featured person in a Rolex magazine advertisement at the time. "The Rolex Submariner has another useful quality if, like Peter Benchley, you ever feel the urge to take a closer look at a shark," the writing said. "Shock essentially does not affect it."
The Great Escape and The Hunter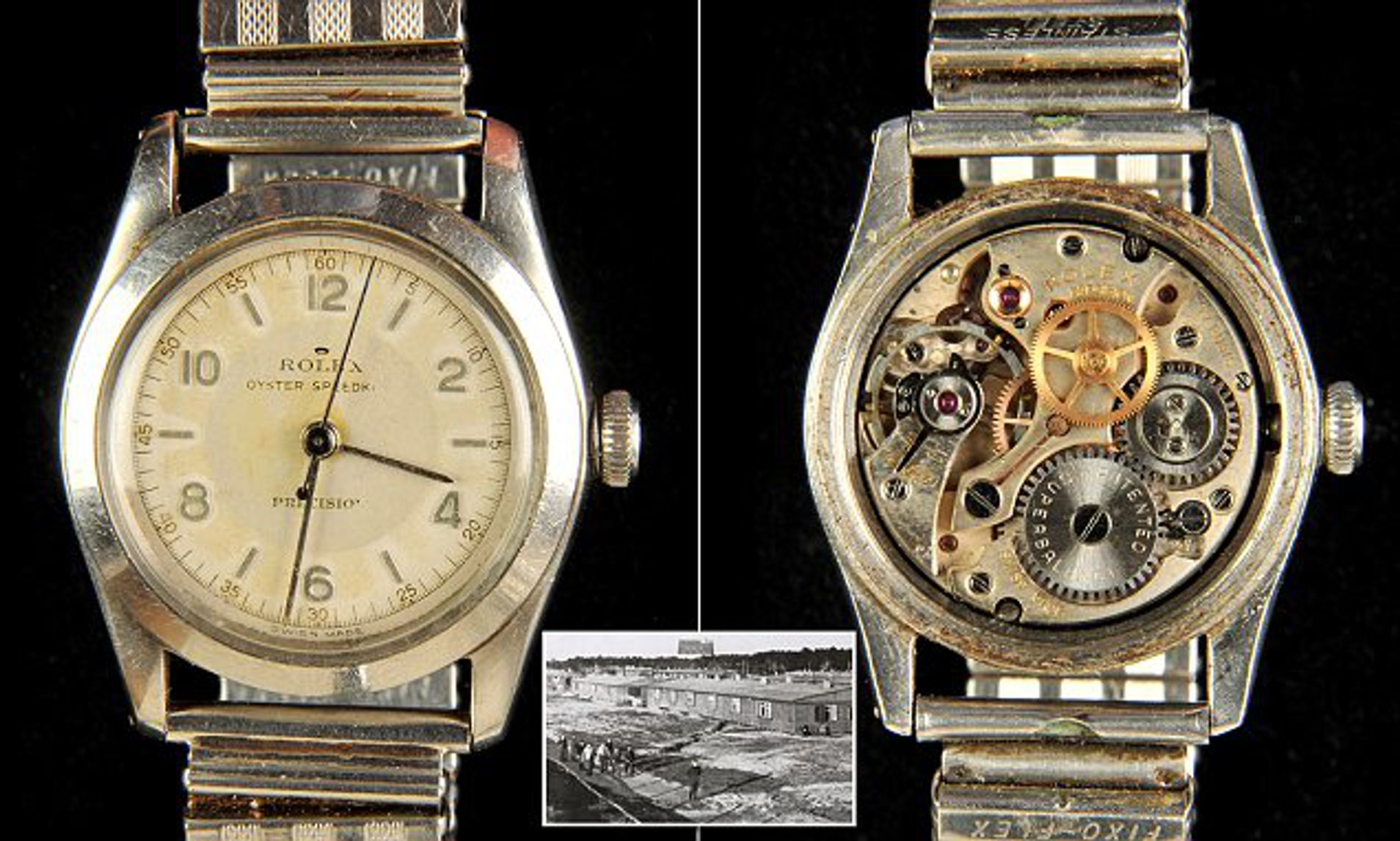 Steve McQueen, a genuine watch enthusiast, topped and ended his career wearing a Rolex. With sound historical cause, he wore a, the movie that catapulted him onto the A-list. According to Crown and Calibre, "watch theft was a common occurrence for British servicemen who arrived in German POW camps and had their watches stolen by the guards." After becoming aware of this, Rolex started changing them, frequently delivering Red Cross gifts along with the watches directly to the camp. Many years later, when McQueen was free to wear any watch in his last movie, The Hunter, he opted for a Rolex Submariner and is a legendary example of Rolex in movies. 
The Color of Money
In The Colour of Money, Paul Newman played a maestro of nine-ball billiards who chose to forgo his signature Daytona in favour of the Rolex Datejust, which earned him his first Oscar. With Oscar this is a great inclusion to the Rolex in movies collection.
Final Thoughts
Together, the top body in the film business and a Swiss watch manufacturer are showcasing their commitment to celebrating the universal principles of cinema, elevating the art form to a higher level, and protecting its heritage for future generations hence making the Rolex in movies a huge thing.
Unquestionably, Rolex watches have star quality and an enduring attraction, whether shown in motion pictures or on the wrists of famous people like Paul Newman.
Also Read: Most expensive handbags in the world