It is known as the "Big Fat Indian Wedding" for a reason, it takes place in the most expensive wedding venues in India. Weddings are extravagant and enormous in the country. With every passing day, Indian weddings continue to grow in size, and more expensive weddings are happening with each wedding season. Palace nuptials, elaborate themes, and weeklong parties have all become customary. 
The most stunning one-time festivities that last a lifetime are marriages. Now that destination weddings are popular, the ceremony is held in India's most expensive wedding venues. 
Choosing the ideal location for your wedding might be challenging when organizing one. You might spend weeks looking into venues because India has many beautiful and distinctive places. Check out these incredible wedding locations in India if you want to have a fairy tale wedding and make it extra special in the most memorable way. We've curated this list of the most expensive wedding venues in India so you may choose where you want to celebrate your ideal day in advance. 
Also Read: 5 most expensive Indian weddings
5 most expensive wedding venues in India
Umaid Bhawan Palace, Jodhpur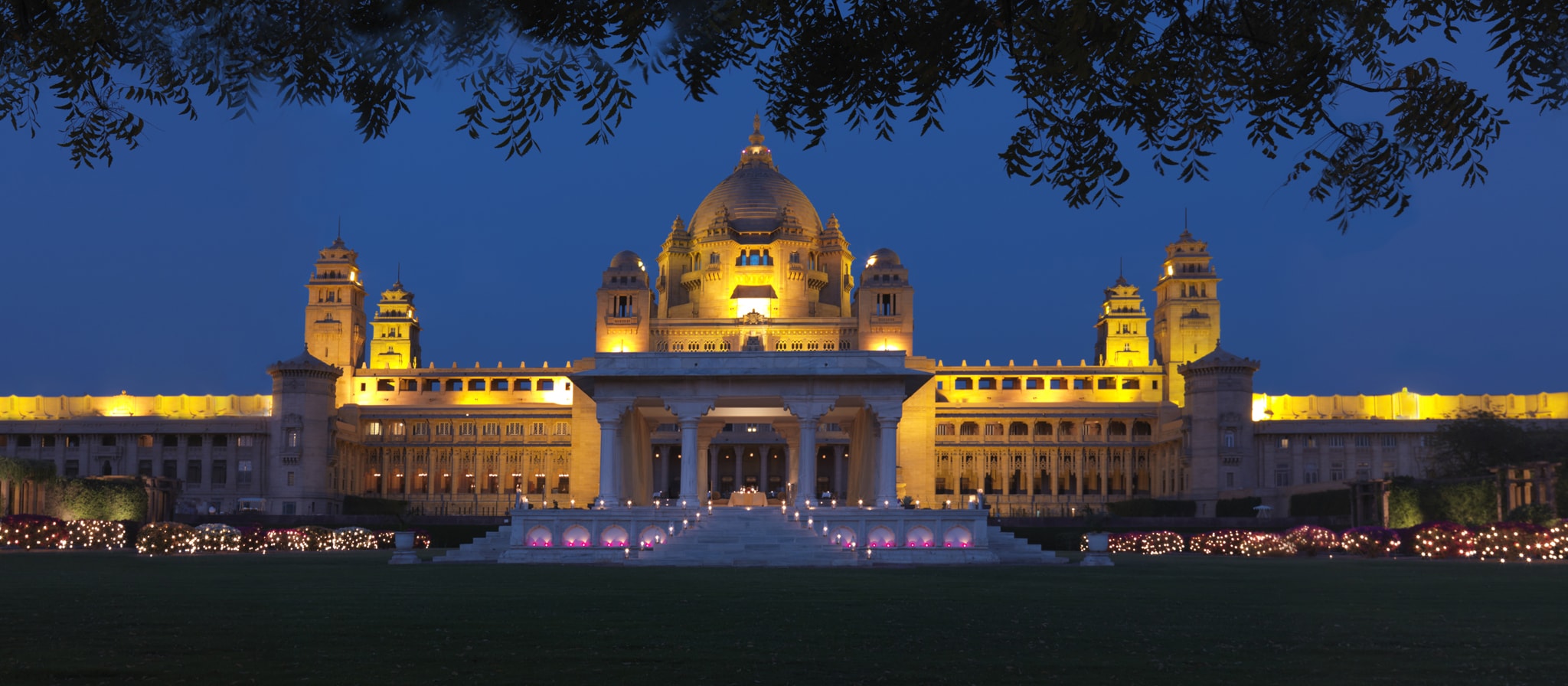 A place unlike any other, Umaid Bhawan was named the most excellent hotel in the world in 2018, making it at the top of the list of most expensive wedding venues in India. It is a fantastic location for destination weddings because of the sumptuous courtyards, breathtaking atmosphere, lush lawns, and lovely decor.
Umaid Bhawan Palace, one of the most enormous private palaces in the world, is named in honor of the former Maharaja Umaid Singh. This majestic Palace, which spans 26 acres and has up to 327 rooms, is located in the hills of Jodhpur. The magnificent Art Deco-style apartments and royal suite in the golden castle will make your wedding unforgettable.
Their exceptional services include Rajasthani traditional or folk performances and a deluxe butler service.
The starting price for the wedding package at this location is Rs 31,000 per night for a luxury room, and the average wedding cost can range from Rs 1.5 to Rs 3 crore. 
The Palace features a large banquet hall that can accommodate 450 guests, a heritage lawn that can accommodate up to 3000 guests, luxury rooms, palace rooms and historical suites for leisure, a maharaja suite, and a maharani suite for a grand stay, the Jiva Spa to relax your senses, Risala, a royal restaurant, for the ideal dining experience, Pillars, an outdoor cafe and Trophy bar for the cocktail after-party.
It is ideal for a luxurious Indian wedding; after all, it is one of the most expensive wedding venues in India. One of the famous Indian weddings happened here- the traditional Hindu wedding of Priyanka Chopra and Nick Jonas. 
Taj Lake Palace, Udaipur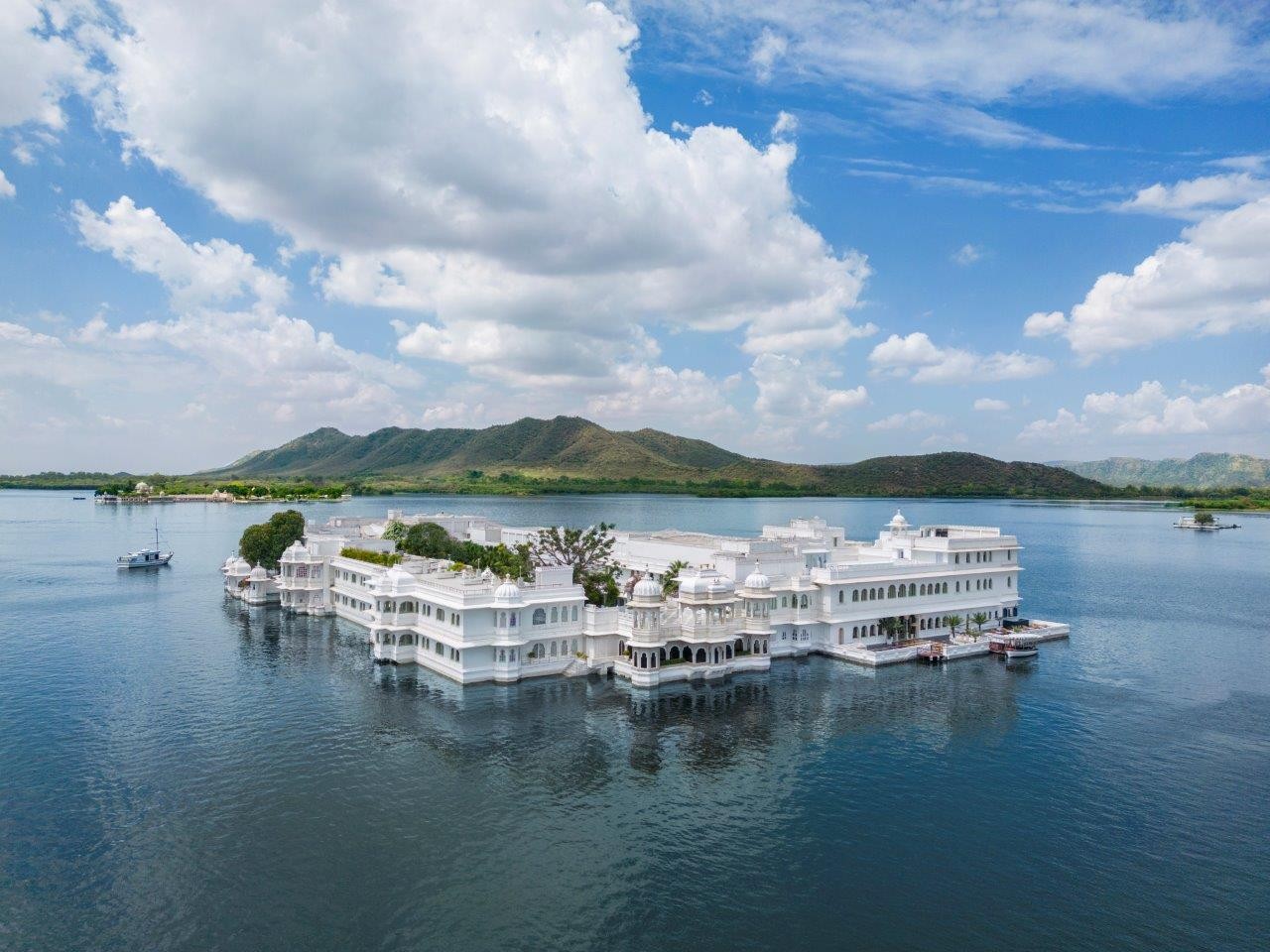 The Grand Lake Palace is located in the middle of the lovely Lake Pichola, adding to Udaipur's natural splendor and making it stand in the second position in our list of the most expensive wedding venues in India. 
The former Royal Mewar family palace was later converted into a historic hotel. You'll feel as though you're in a fairyland in the opulent hotel rooms with a classic touch and an open lake view. Your wedding ceremony will include a romantic date for dinner at Mewar Terrace.
The Taj Lake Palace, one of India's most expensive wedding venues, provides opulent royal suites and first-rate hotel rooms for a lavish wedding. If you want to host your wedding here the cost will be something between 1 Crore-2.5 Crore. They also offer the Amrit Sagar bar, the Lily Pond courtyard, the Jharoka restaurant, the seasonal Bhairo restaurant, and the Neel Kamal restaurant, which provides authentic Rajasthani food. 
The Taj Lake Palace was listed among the top 10 palaces by The Luxury Travel Bible in 2010 and is currently the third-best hotel in the world according to Conde Nast Traveller Award, 2019. Additionally, the Taj Lake Palace received a national tourism award.
On the lake's floating island, there is a historic hotel. In this mansion, the Hollywood James Bond film "Octopussy" was filmed. Not to forget the latest Bollywood wedding, Parineeti Chopra and Raghav Chadha.
Taj Falaknuma Palace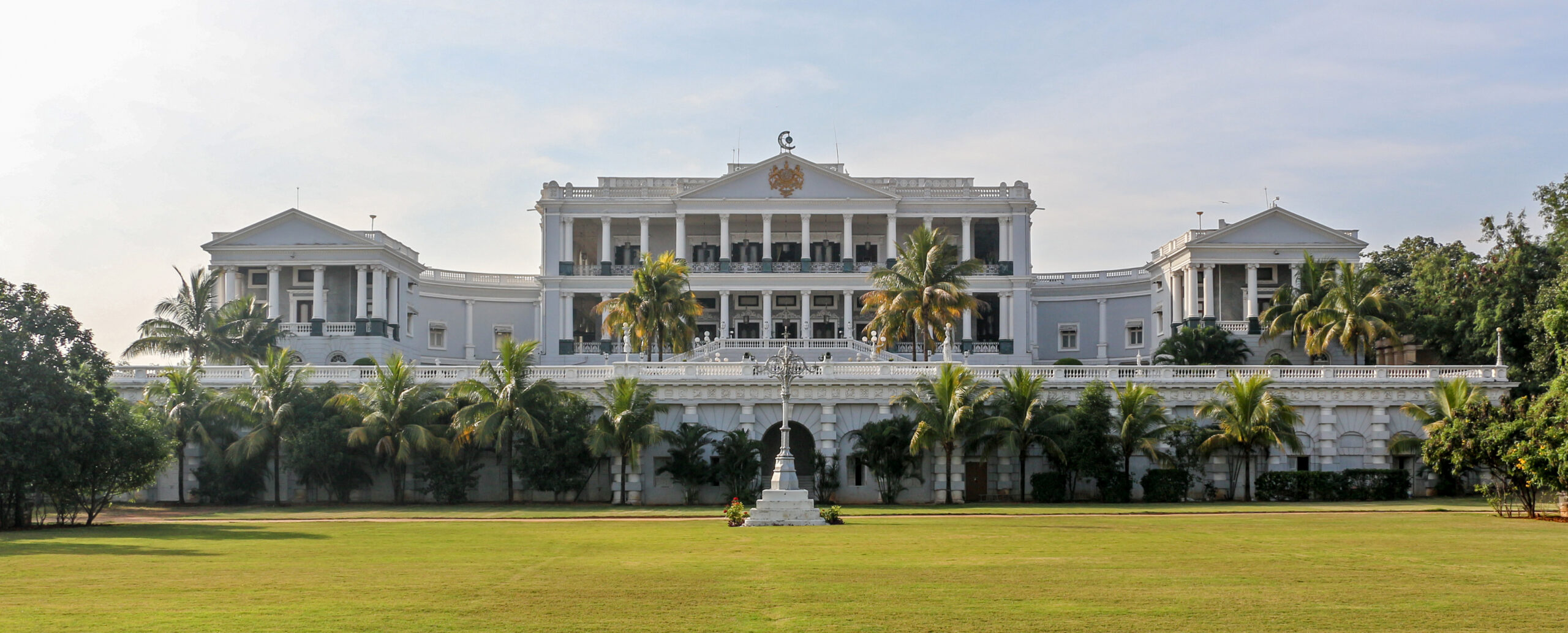 Experience Nizami royalty in Hyderabad's magnificent Falaknuma Palace, the third entry on our list of the most expensive wedding venues in India. The rich decor and ostentatious architecture are ideal for a grand wedding event. Renaissance-inspired antiques and artwork decorate the Palace. It is constructed with a distinctive scorpion shape that spreads its stings to the north. You may get a good overview of the "City of Pearls" while dining on the Palace's patio.
Heritage tours to the Nizam Darbar, a live qawwali performance every evening, and a library with an unusual book collection are just a few of the unique things this location offers. 
The starting rate for premium accommodation is Rs 40,000/night, whereas the typical wedding expense is Rs 50 lac-1 crore. Luxury rooms, palace rooms, royal suites, Nizam suites, a hookah lounge, restaurants serving European cuisine, Nizams' culinary heritage, and terraces for high tea on the Gol bungalow terrace and Jade terrace are among the amenities offered here. The main lawn and Rajasthani garden can accommodate up to 1200 guests. 
This location on our list of the most expensive wedding venues in India was recognized as India's best heritage hotel in 2015 by Travel+Leisure and has the most outstanding heritage hotel design by Hotelier. Aside from that, Outlook Travellers chose them as their top Indian Heritage Hotel in 2013.
It is 2,000 feet above the ground in Hyderabad and made of exquisite Italian marble. As a result, this resort, from our list of most expensive wedding venues in India, is referred to as the "Mirror of Sky."
Also Read: 5 most expensive travel destinations in the world
Suryagarh, Jaisalmer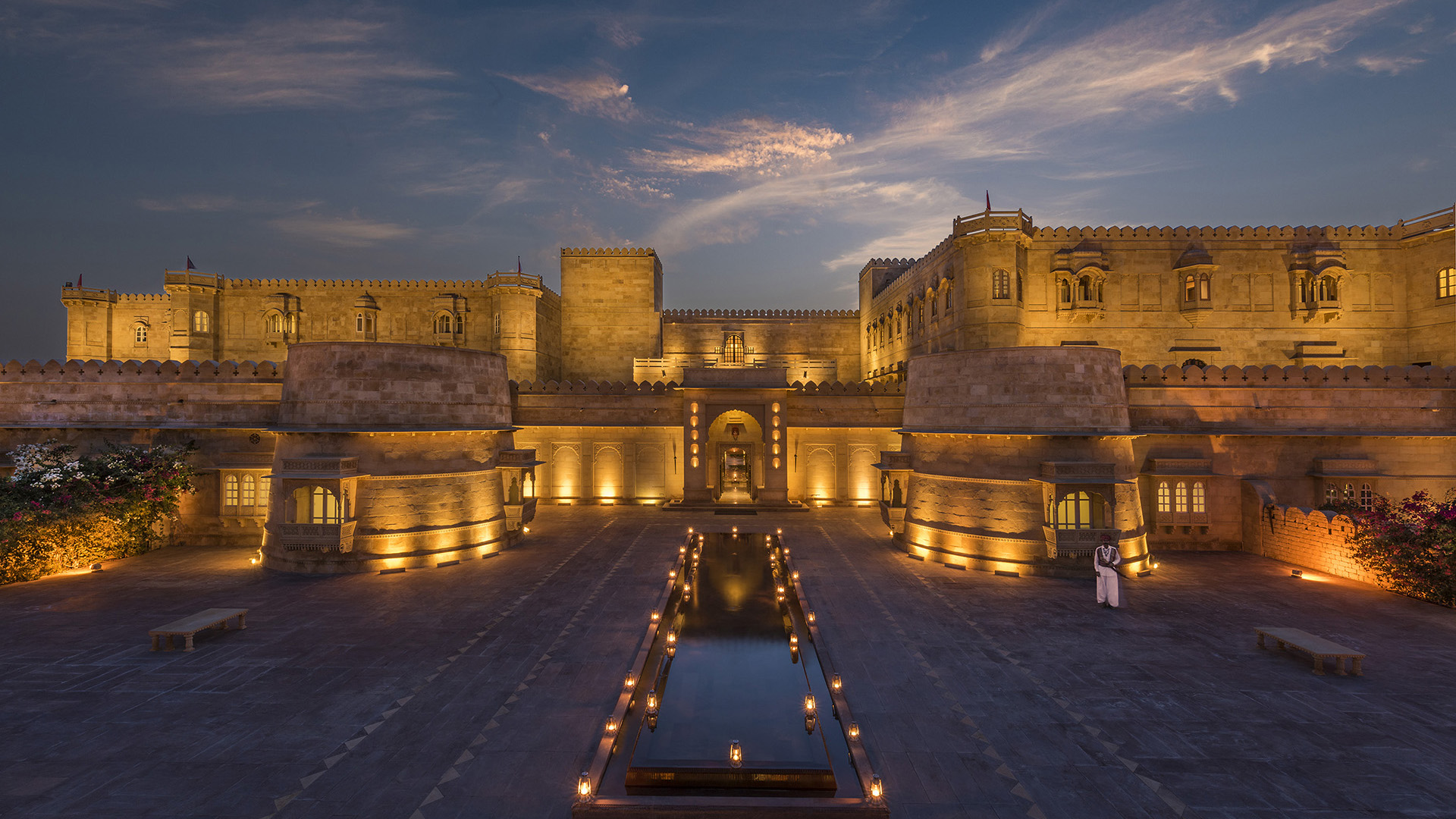 In the golden city of Jaisalmer, Suryagarh is a golden structure that shines as brightly as the rising sun and comes fourth in our list of the most expensive wedding venues in India. It occupies a 40-acre plot of land and stands alone amid the Thar desert. 
This one-of-a-kind fusion of tradition and modernity will provide the most abundant, cosy, and regal treatment for your wedding. A City tour of the Golden City and a Safari ride to discover the mysterious stories of the Thar desert are two beautiful things that the location offers. 
Luxury rooms start at Rs 10,620 a night, while the typical wedding costs between Rs 70 lacs and Rs 1 crore. There are 32 suites, among a total of 72 rooms. They have the tranquil Rait Spa, a luxury your body deserves. There is also the Akhara Gym for those who enjoy working out, and kids may have fun in the game room.
The architecture of the golden sandstone exterior and its heritage interior with a touch of modernization marks its uniqueness. This is one of the most expensive wedding venues in India, where the regal wedding of Bollywood stars Siddharth Malhotra and Kiara Advani was organized. 
Lalit Golf Resort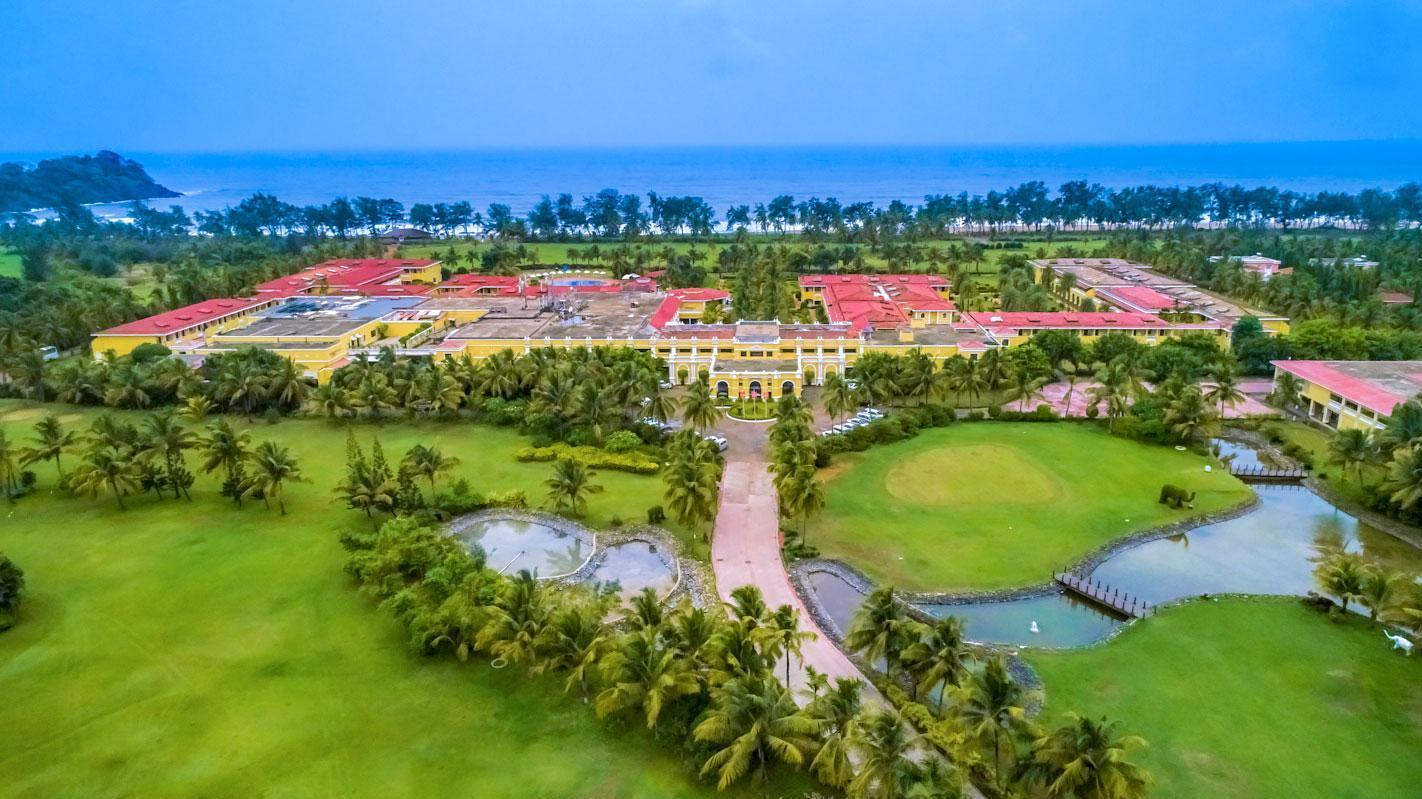 This resort offers a magical experience if you love the beach and want to get married there. Hence giving it the fifth position on our list of most expensive wedding venues in India. It stands on the Rajbagh beach in Canacona, Goa. It is a resort with beautiful pools, ornamental plants, and a serene environment. Thanks to the opulent suites and villas, a lavish feast, and poolside gardens, your wedding will be a great occasion. 
In this resort, single rooms start at INR 13,570 per night, while weddings often cost between INR 50 and INR 80 lakhs. There are 263 operational suites, a huge function hall, rooms with a garden, pool, or sea views, and plentiful facilities. There are eateries that serve worldwide cuisines, Pan-Asian, local Goan, and quick snacks. The resort also offers opulent spa services in the Rejuve Spa.
The resort, which is one of the most expensive wedding venues in India, was recognized for its excellent services with the Traveller's Choice Award in 2021 and the Goan Hospitality Award. It differentiates itself from competing locations thanks to a golf course built to international standards and its Baroque Portuguese architecture.
Final Thoughts
Since "marriages are made in heaven," they deserve a heavenly encounter on earth. Be the king and queen of your story for the rest of your days as you begin your lovely life adventure with a royal feast. Therefore, for your ideal wedding, you deserve to pick from one of the most expensive wedding venues in India.
A beautiful and joyous wedding is what we hope for you!
Also read: 5 most expensive wedding attire for the Indian bride