Running a business comes with its own challenges, like generating leads, converting them into customers, marketing, sales, manufacturing, team management, and a thousand more tasks. In this fast-paced business world where time is money, let Swipe remove the burden of invoicing from your mind. Don't worry about paperwork, delayed payments, and manual errors, which can hinder growth and sap valuable resources. Sit back, relax, and enjoy the automated and personalized e-invoicing services offered by Swipe.
When it comes to invoicing, efficiency, and attention to detail should be paramount, and that's why it often becomes daunting. However, Swipe is here to change the game. Quickly generate your invoices with just one click and say goodbye to these invoicing woes. The power of automation meets user-friendly design in Swipe's app, streamlining invoicing from start to finish. No more chasing payments, no more endless data entry—just a smooth experience that helps businesses to focus on what truly matters: their growth.
What is E-invoicing?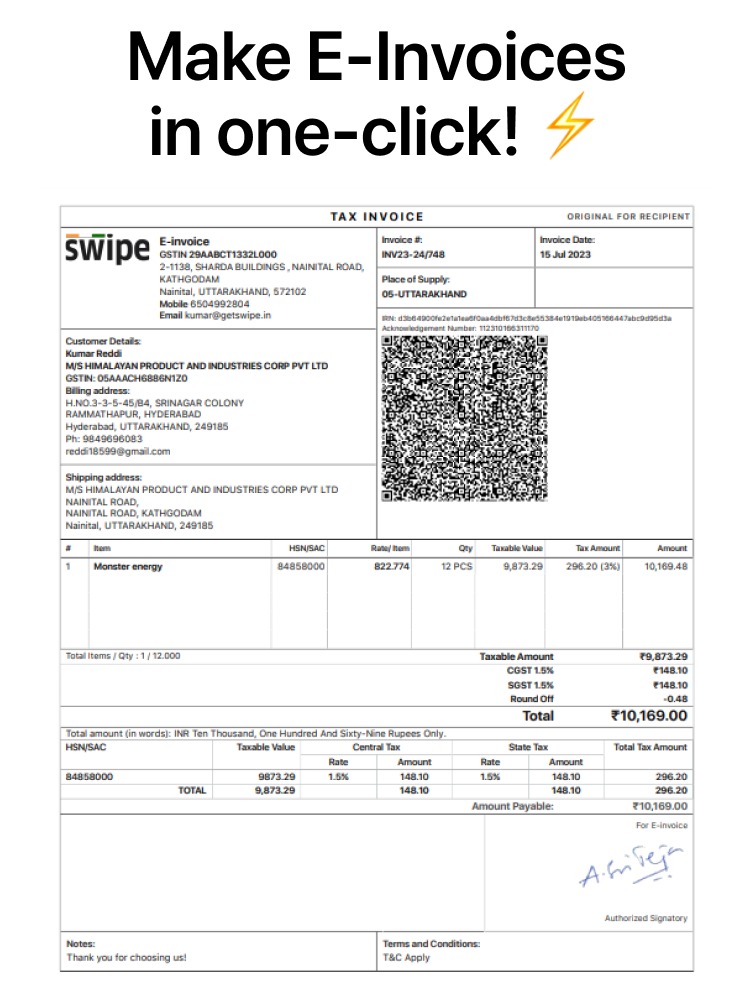 E-invoicing under GST refers to the creation of electronic invoices in compliance with the GST law in India. It mandates GST-registered businesses with a turnover of 5 crore and above to generate digital invoices for their transactions as of August 1, 2023. This is standardizing the invoice format for reporting to the GST Network (GSTN). 
Recently introduced rules require these taxpayers to generate e-invoices within 7 days of the invoice date, although implementation has been deferred to provide businesses additional adjustment time. E-invoicing doesn't mean creating invoices on the GST portal; instead, it involves submitting pre-generated standard invoices on a dedicated e-invoice portal. 'Swipe' simplifies this process, offering features like one-click e-invoice generation, sales tracking, and secure cloud storage.

Why is E-invoicing beneficial?
Real-Time Tracking
E-invoicing allows for the expedited availability of Input Tax Credit (ITC), enabling businesses to claim credits faster.

It also ensures transparent monitoring throughout the supply chain, providing real-time visibility into transaction statuses.
One-Time Reporting
Businesses need to report their invoices only once via the Invoice Registration Portal (IRP), streamlining the reporting process.

This one-time reporting significantly reduces the potential for manual errors and ensures data accuracy.

It allows for the automatic population of invoice data into the GSTR-1 return, saving time and effort.
Seamless E-Way Bill Generation
The e-invoicing system is integrated with the e-way bill system, streamlining the entire process.

Vehicle details necessary for e-way bills are automatically fetched from the authenticated e-invoice on the GST portal.
Instant Data Sharing
The authenticated e-invoice is sent directly to buyers via email, ensuring instant and secure sharing of transaction details.

This feature enables easy and efficient reconciliation of purchase orders, streamlining the acceptance or rejection process.
Fraud Reduction
Real-time data access by tax authorities acts as a powerful deterrent against fraudulent activities, enhancing the overall integrity of the system.
Tax Evasion Curbing
Pre-Transaction invoicing, where invoices are generated prior to transactions, significantly reduces tax evasion opportunities.

E-invoicing makes authentic transactions easily traceable by tax officials, promoting compliance.
QR Codes for Convenience
Businesses can generate PDF copies of invoices embedded with QR codes whenever needed, enhancing convenience and data accessibility.
Swipe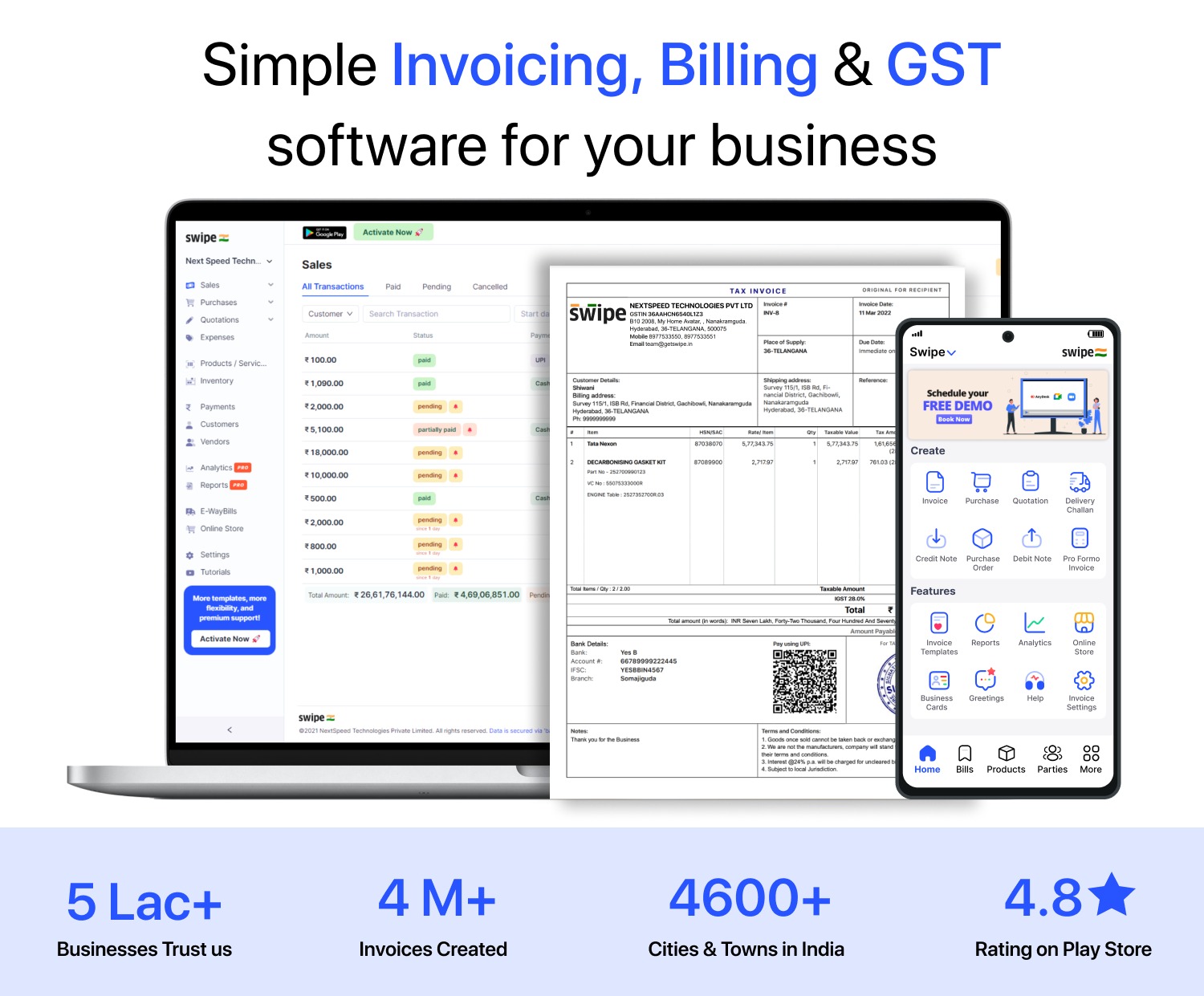 Picture this:
E-Invoices are generated and sent at the click of a button.

Payments are tracked in real time.

Reminders are sent automatically.
With Swipe, this picture can come to life. Swipe is a free GST-billing software that helps SMEs manage their cash flow, reduce administrative overhead, and foster healthier client relationships. The software's compatibility with a variety of platforms ensures businesses connect hassle-free with their own clients and suppliers, overcoming the compatibility hurdles that often plagues modern businesses.
What do you get?
Easily Create Invoices, Purchases, and Quotations in less than 10 seconds

.

Select multiple invoice templates and customize them easily

Share invoices with customers via WhatsApp and Email.

Collect payments using UPI (QR Codes), payment gateway, and track status.

Generate GST, Profit & Loss, and 30+ Reports for instant tax filing – monthly/quarterly

Manage Inventory in real-time.

Record expenses easily.

View business metrics and analytics.

Setup Online Store in 5 minutes
Upload your products, prices, and images quickly and send product catalogs through WhatsApp.

Generate bills directly from your online store.

Get the benefits of end-to-end order management by tracking and updating every order status to your clients.

Add multiple users & roles access.

Create E-way bills on the go.

Create E-Invoices in one-click.

Create Export invoices.

SMS campaigns.

Multilingual Customer Support (Assamese, English, Hindi, Tamil, Telugu, Kannada, Bengali, Malayalam, Gujarati) 

Upload unlimited Products, Customers & Vendors in bulk.

Create recurring invoices, multiple price lists, POS billing with barcodes & much more!
Beyond the technical ease of Swipe's software lies a commitment to data security. In today's digital world, safeguarding sensitive financial information is a top priority. That's why Swipe uses Bank Grade" 256-bit SSL encryption and security measures, allowing businesses to make transactions with confidence.
As regulatory landscapes shift and compliance demands grow, Swipe remains ahead. The software is designed to adapt to evolving e-invoicing rules and guides SMEs through updating complex regulations effortlessly. 
In a world where businesses strive to do more with less, Swipe's e-invoicing solution provides efficiency, growth, and transformation. It's time for SMEs to embrace the future of invoicing, and Swipe is leading the way. Discover how this game-changing software can reshape your business's invoicing landscape – because success should be measured by progress, not paperwork.