Regarding culinary experiences, the sky's the limit for those with deep pockets. From gold-infused pizzas to caviar-topped sushi, the world of gastronomy has jaw-droppingly luxurious offerings that redefine the concept of a "splurge." But what makes a dish worth thousands of dollars? Is it the rare ingredients, the unique preparation, or the thrill of indulging in something outrageously expensive? In this article, we'll delve into the world of lavish dining by showcasing the ten most expensive dishes from across the globe. This article aims to enlighten, astound, and perhaps even bewilder you with the sheer luxury found on a plate.
Also Read; 
The Most Expensive Cheese Is Worth €30,000 : Cabrales Blue Cheese Breaks Records
Sushi Kirimon Serves Sushi Worth $2,457 On The Exquisite "Kiwami Omakase" Course
Top 10 most expensive dishes in the world
Is it the rare ingredients, the skills, or perhaps just the prestige associated with indulging in the rarest flavors on Earth? Read on as we delve into the 10 most expensive food from around the world.
1. Chocolate Pudding
This isn't your grandmother's pudding. A decadent experience, the chocolate pudding offered at Lindeth Howe Country House Hotel in England is priced at a staggering $35,000. Yes, you read that right. What sets this dessert apart is not just its exotic ingredients but also its presentation, which includes an edible gold leaf. You even get a gold spoon to consume, which is yours to keep.
2. Grand Velas Tacos
On this list of the most expensive dishes, tacos get a luxurious twist at Grand Velas, Mexico. Priced at $25000., they're stuffed with premium ingredients like Kobe beef, Beluga caviar, and black truffle Brie cheese. Each taco can set you back by thousands of dollars, delivering a culinary experience that's rich, earthy, and sumptuous.
3. Frozen Haute Chocolate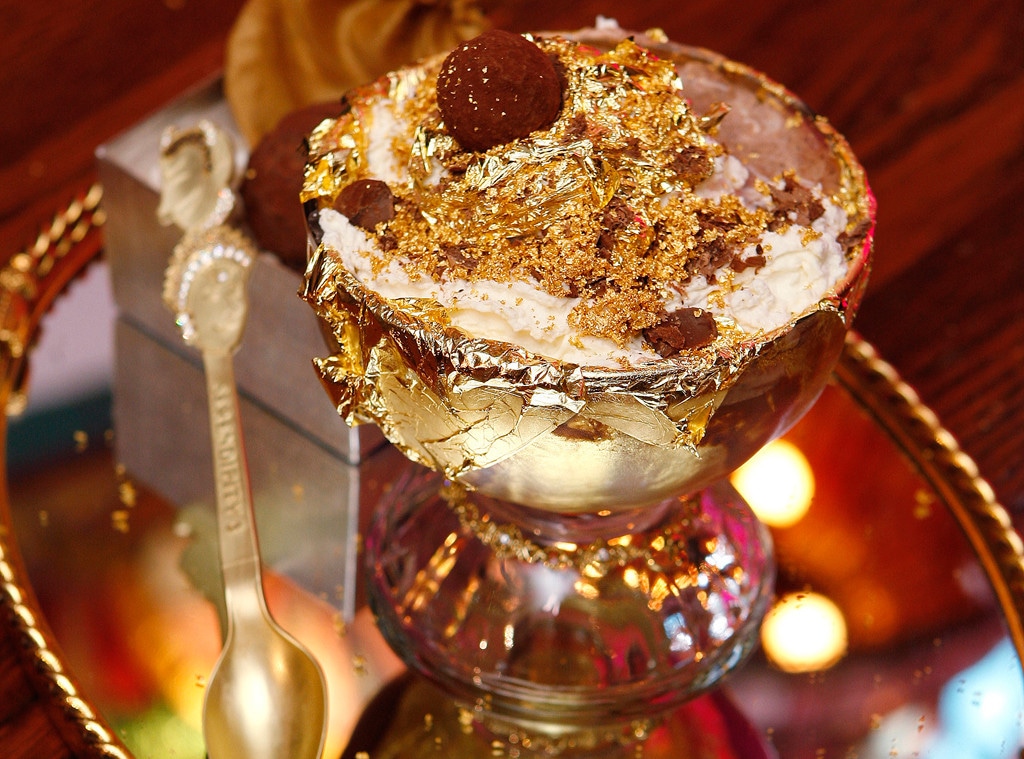 The Frozen Haute Chocolate served at Serendipity 3 in New York has a goblet lined with edible gold and a diamond-encrusted spoon. Priced at approximately $25,000, This delightful beverage is presented in a goblet lined with edible gold and contains a blend of 28 cocoas and 5 grams of edible 23-karat gold. As a bonus, this one of the most expensive food comes with an 18-karat gold bracelet with 1 carat of white diamonds.
4. Fortress Stilt Fisherman Indulgence
Served at the Fortress Resort and Spa in Sri Lanka, this $14500 dessert includes a gold leaf Italian cassata flavored with Baileys Irish Cream and a pomegranate and mango compote. This dessert is designed to look like a stilt fisherman clinging to a pole. 
5. Louis XIII Pizza
A pizza worth $12,000? Only if it's topped with three types of caviar: lobster from Norway and Cognac-soaked crust. This one of the most expensive dish takes the classic Italian pizza and elevates it to a gastronomic spectacle. It's a work of art you can eat if you can afford the price tag.
6. Beluga Almas Caviar
Regarded as one of the most expensive foods in the world, Beluga Almas Caviar costs around $34,500 per kilogram. This caviar is often served in a 24-karat gold tin to emphasize its exclusivity. Originating from Iran, this caviar is considered the most luxurious in the world. It comes in a 24-karat gold tin and is typically enjoyed with a mother-of-pearl spoon to avoid tainting the taste.
7. Posh Pie
Served at the Lord Dudley Hotel in Australia, the Posh Pie costs approximately $12,000 and features premium ingredients like Wagyu beef, rock lobsters, and winter truffles, garnished with a generous dusting of gold leaves. And you've got yourself one of the most expensive dish ever created.
8. Fleur Burger 5000
Available at Fleur in Las Vegas, this most expensive food is a burger, priced at $5,000, combines Wagyu beef, foie gras, and truffles. It also comes with a bottle of Château Pétrus wine, which alone is worth thousands of dollars, elevating the burger experience to a whole new level.
9. 24K Pizza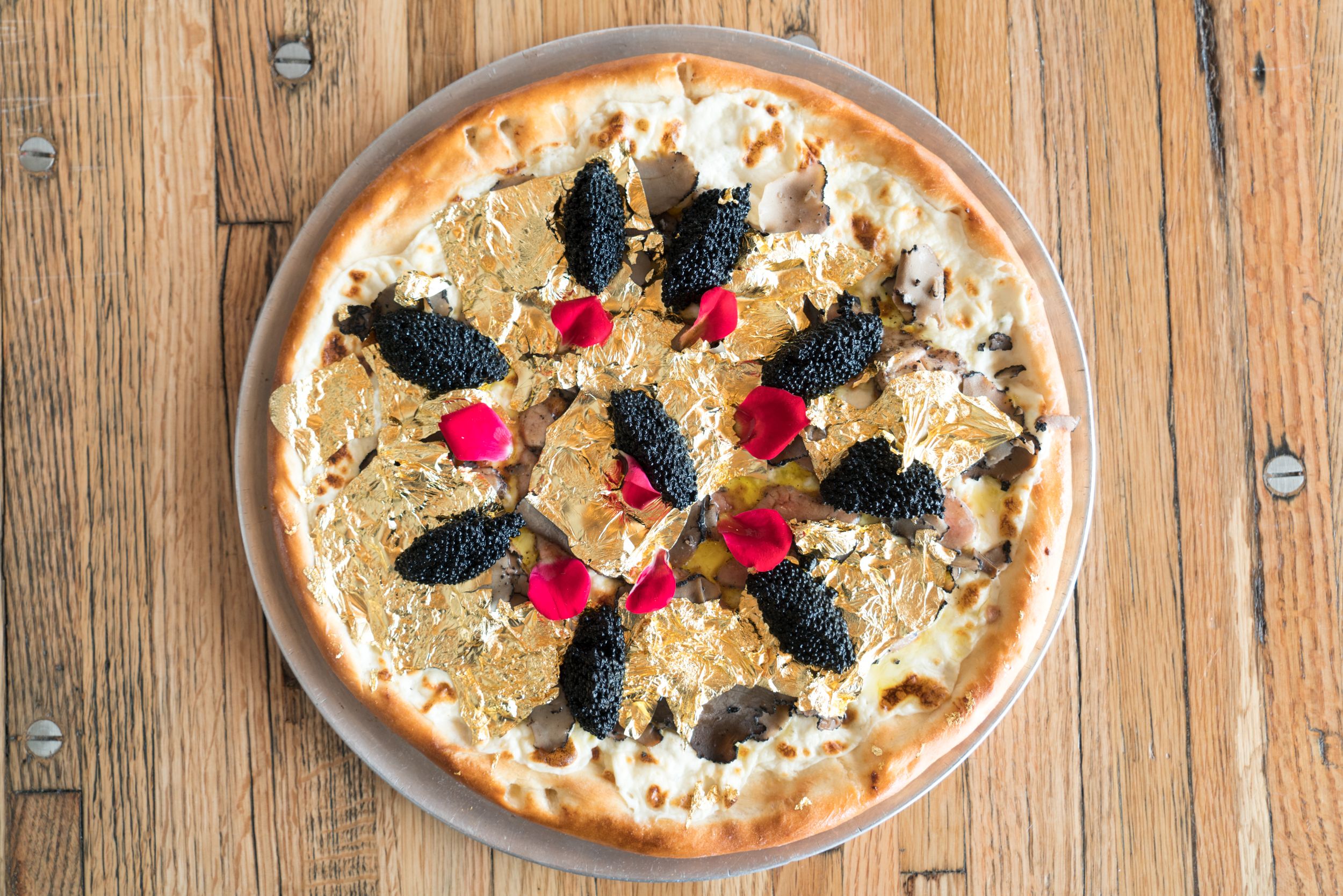 A single slice costs about $2,000, making it a dish for the truly worthy to be on the most expensive dish list. This extravagant pizza from Industry Kitchen in New York is covered with 24-karat gold leaves, white stilton cheese, Ossetra caviar, and truffles. Each slice is a journey into culinary opulence.
10. Margo's Malta White Truffle and Gold Pizza
Lastly, Margo's Malta offers a $2,420 pizza topped with white truffles, and 24-karat gold leaves provide an intense and unique flavor profile that perfectly marries earthy and metallic notes. This pizza takes luxury dining to a new stratosphere, combining rare and costly ingredients in a simple yet extraordinarily opulent dish.
In The End
The dishes we've explored today are not just meals; they are experiences that cater to the hedonistic pleasures of the ultra-wealthy. Each of these most expensive dishes is a masterpiece, a culmination of rare ingredients, extraordinary culinary techniques, and the allure of exclusivity. While these dishes may be out of reach for most of us, they are fascinating examples of how far culinary innovation can go when money is no object. So the next time you indulge in a pricey meal, remember that someone is likely savoring a pizza sprinkled with gold or a chocolate pudding worth a small fortune somewhere in the world. Bon Appétit!
Read Next: The Crown: Star Of The Queen Elizabeth II Coin Collection Is Worth Whopping $23 Million