In the realm of luxury automobiles, a rare breed exists that transcends the boundaries of luxury and sets new standards of lavishness. Among these elite creations stands the Rolls Royce Boat Tail, a masterpiece that has not only redefined automotive luxury but has carved its name by becoming the world's most expensive car. This work of art costs a whopping $28 million. It is a manifestation of four years of unwavering craftsmanship and collaboration between the illustrious Rolls-Royce and its discerning clientele.
A Nautical Dream Realized
The genesis of the Rolls-Royce Boat Tail is a story of client-driven inspiration. Three connoisseurs, captivated by the modern boat and J-Class yacht styling of the Rolls-Royce Sweptail, approached the marque with a vision. They dreamt of a car that would not only pay homage to the opulent heritage of Rolls-Royce but also represent the distinct imprint of their characters.
The result? A triumvirate of nautically designed, bespoke Rolls-Royce cars, each encapsulating the essence of its owner's desires while maintaining the brand's design language. Its name, a tribute to its boat-like rear design, evokes images of luxury yachts adrift in tranquil waters. As Rolls-Royce continues to redefine the art of coachbuilding, this modern marvel stands as a testament to the enduring appeal of timeless design.
The Epitome of Exquisite Craftsmanship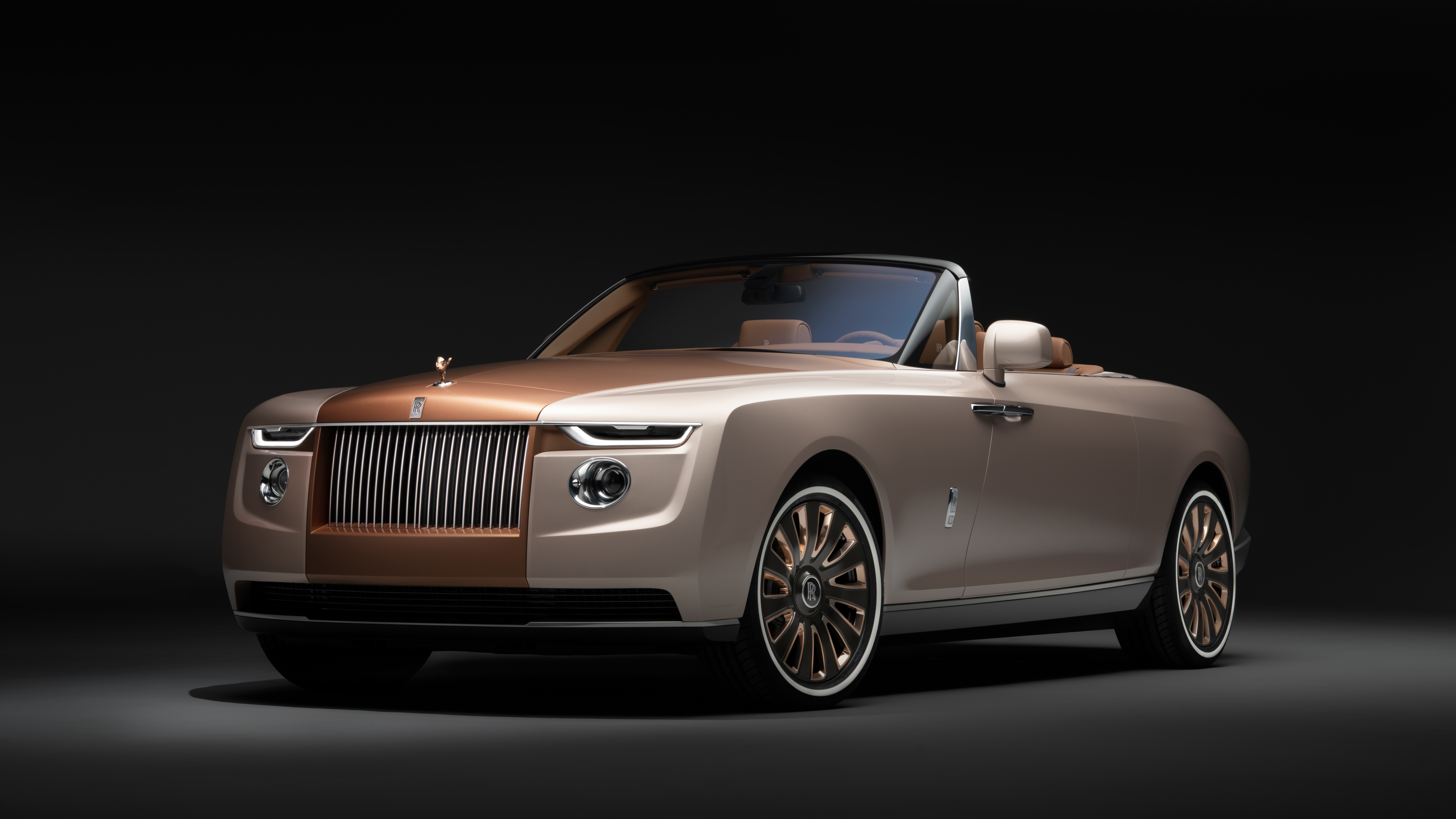 At the heart of the Rolls-Royce Boat Tail lies an exterior that defies convention. The Caleidolegno Veneer, a grey and black material specially used for interiors, adorns the exterior, bestowing it with a unique character. This veneer covers the car's amazing 5.8-meter length and is distinguished by its open pores and brushed stainless steel pinstripe trimmings. A staggering 1,813 new handmade elements make up the design, which is distinguished by a wraparound windscreen, an aligned A-pillar, and continuous negative sculpting. It is the product of 20 years of expertise.
A Symphony of Pleasures Unveiled
Inspired by the architectural brilliance of Santiago Calatrava, the Rolls-Royce Boat Tail unfurls its deck like a majestic butterfly taking flight. This bespoke deck doubles as an entrancing stage for an ensemble of luxurious indulgences. It accommodates caviar, picnic stools, and cocktail tables, inviting you to savour moments of opulence. The rear storage area is perfect for a picnic. It hosts a masterpiece and honours the architect's design while Rolls-Royce's iconic parasols are on hand to provide protection from the weather's irrational whims.
Matching Watches
In the world of luxury, every detail matters, down to the smallest accessory. The Boat Tail takes this concept to a new level with its matching pairs of men's and women's watches by Bovet Fleurier. These timepieces are more than just stylish accessories; they are works of horological art. Crafted to mirror the car's design and ethos, these watches can be worn as wristwatches to complement your attire, used as desk clocks to adorn your workspace, or placed in a titanium enclosure on the car's dashboard, becoming an integral part of the vehicle's interior. The attention to detail in creating these timepieces underscores the Boat Tail's commitment to luxury and exclusivity.
Custom Sound System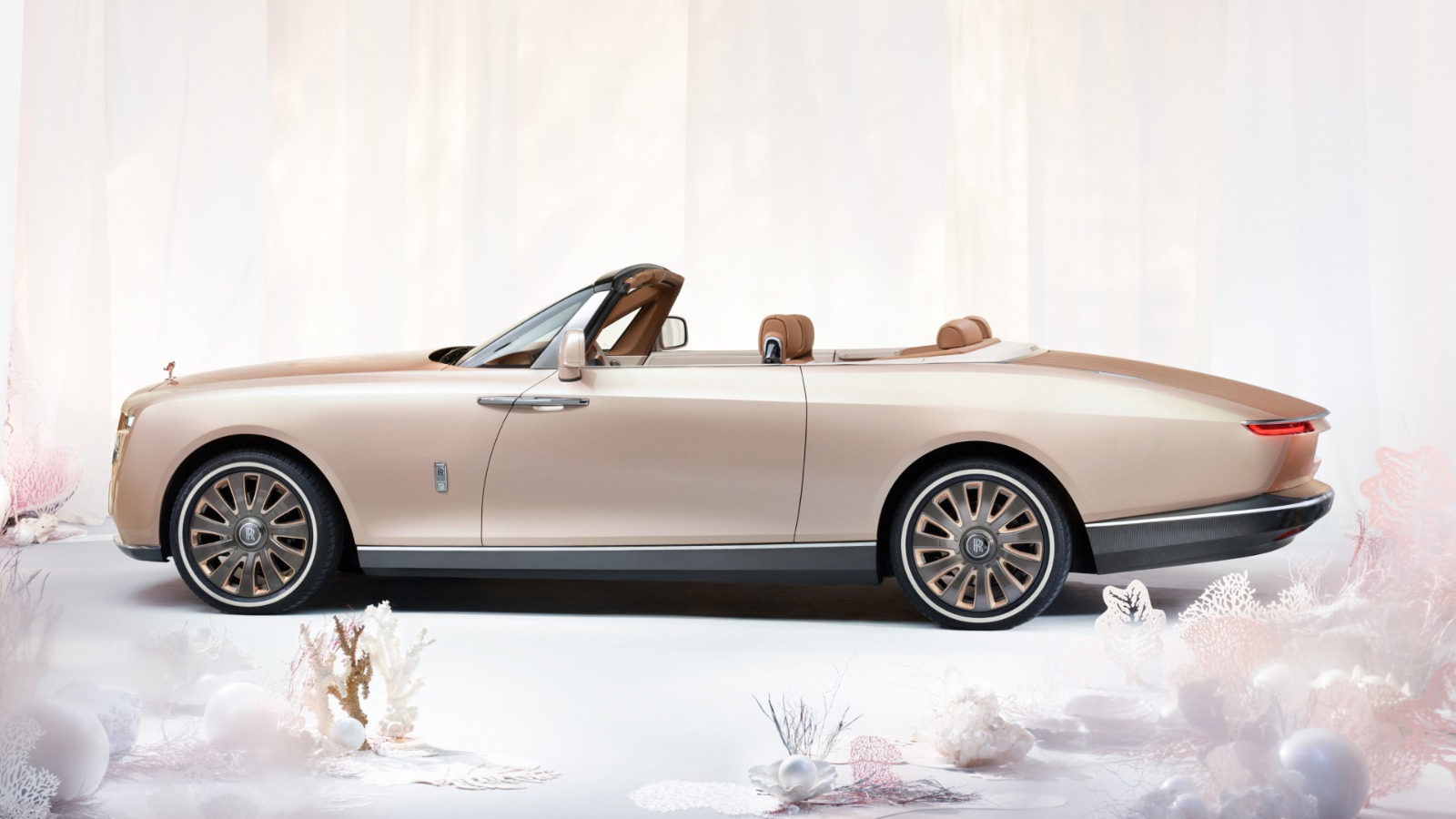 Rolls-Royce is renowned for its commitment to providing the ultimate in automotive comfort, and that extends to the auditory experience as well. The Boat Tail features a bespoke Bose Corporation sound system that goes beyond conventional car audio. It leverages the car's floor structure as a resonance chamber, optimizing sound quality to an unparalleled level. Whether you're listening to your favourite music or enjoying a podcast, the audio experience inside the Boat Tail is nothing short of exceptional, enveloping you in a world of rich, immersive sound.
Champagne Cooling
What would an occasion be without champagne? The feeling of festivity is a key component of the Rolls-Royce Boat Tail experience. One of the refrigerators nestled in the posterior deck is designed specifically for this purpose. It quickly cools the champagne bottles to the perfect serving temperature of 6 degrees Celsius. This means that you can indulge in a glass of perfectly chilled bubbly while enjoying a scenic drive, hosting a picnic in the countryside, or just savouring life's special moments. It's a testament to the car's dedication to luxury and the finer things in life, ensuring that every journey is a cause for celebration.
A Legacy Reimagined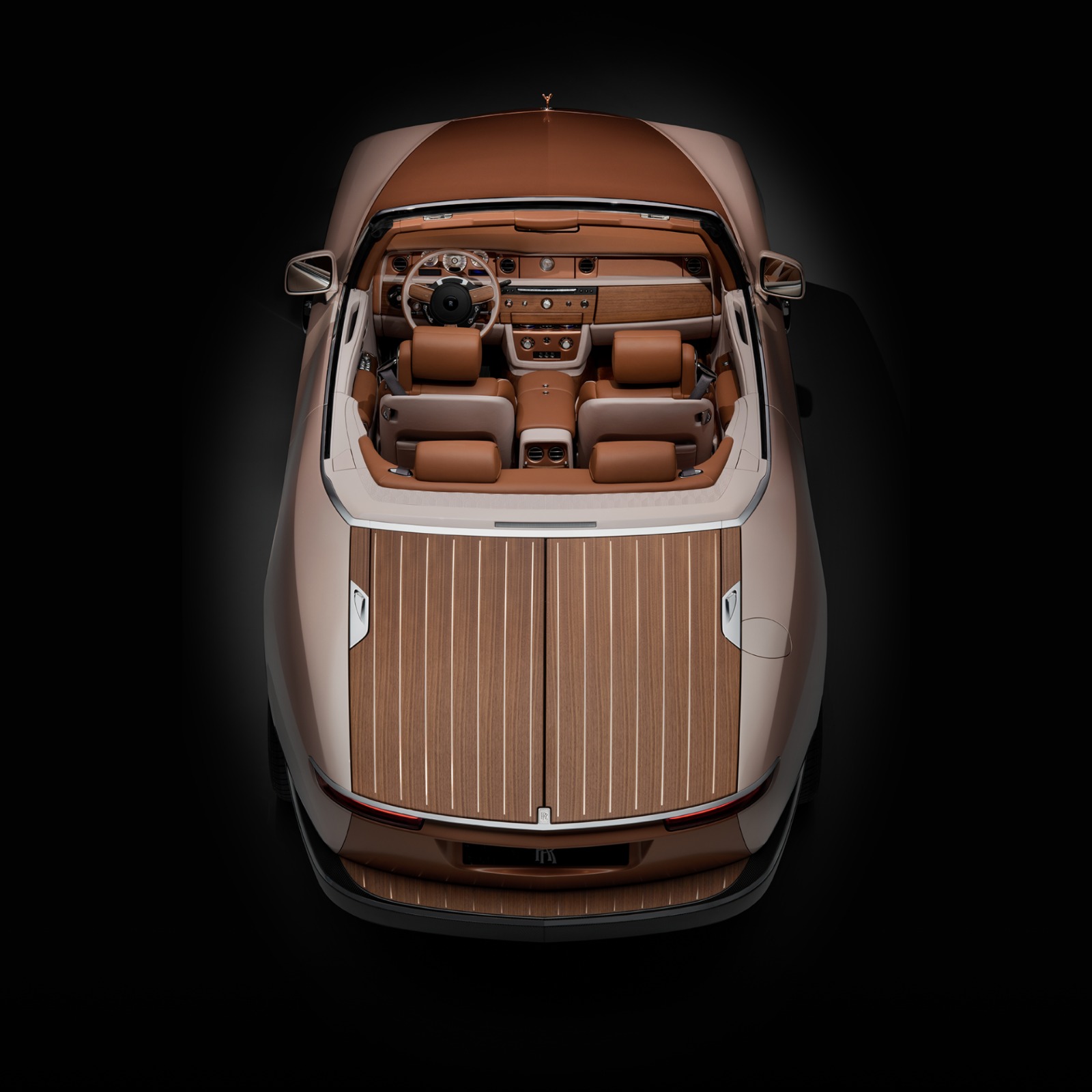 With the Boat Tail, this company with a long history in coachbuilding, started a new chapter. This unique design marks the launch of the company's dedicated Coachbuilding business and paves the way for a future in which uniquely designed, handcrafted cars will once again be in demand. Coach-built cars ensure that workmanship endures through the ages and become an essential part of automotive history because of their enduring appeal.
A Homage to Tradition
The Boat Tail's design is a tribute to heritage, paying homage to a couple who are loyal patrons of Rolls-Royce. With a 1932 Rolls-Royce Boat Tail already in their prestige set of cars, this modern interpretation draws inspiration from the rear decks made out of wood as its predecessor. Sharing its engine and chassis with the Rolls-Royce Phantom, the Boat Tail is powered by a formidable N74B68 twin-turbocharged V-12 engine, producing 563 horsepower. Inside, the craftsmanship extends to every detail, from sumptuous leather-clad seats to meticulously crafted wood and metal features.
The Most Expensive Car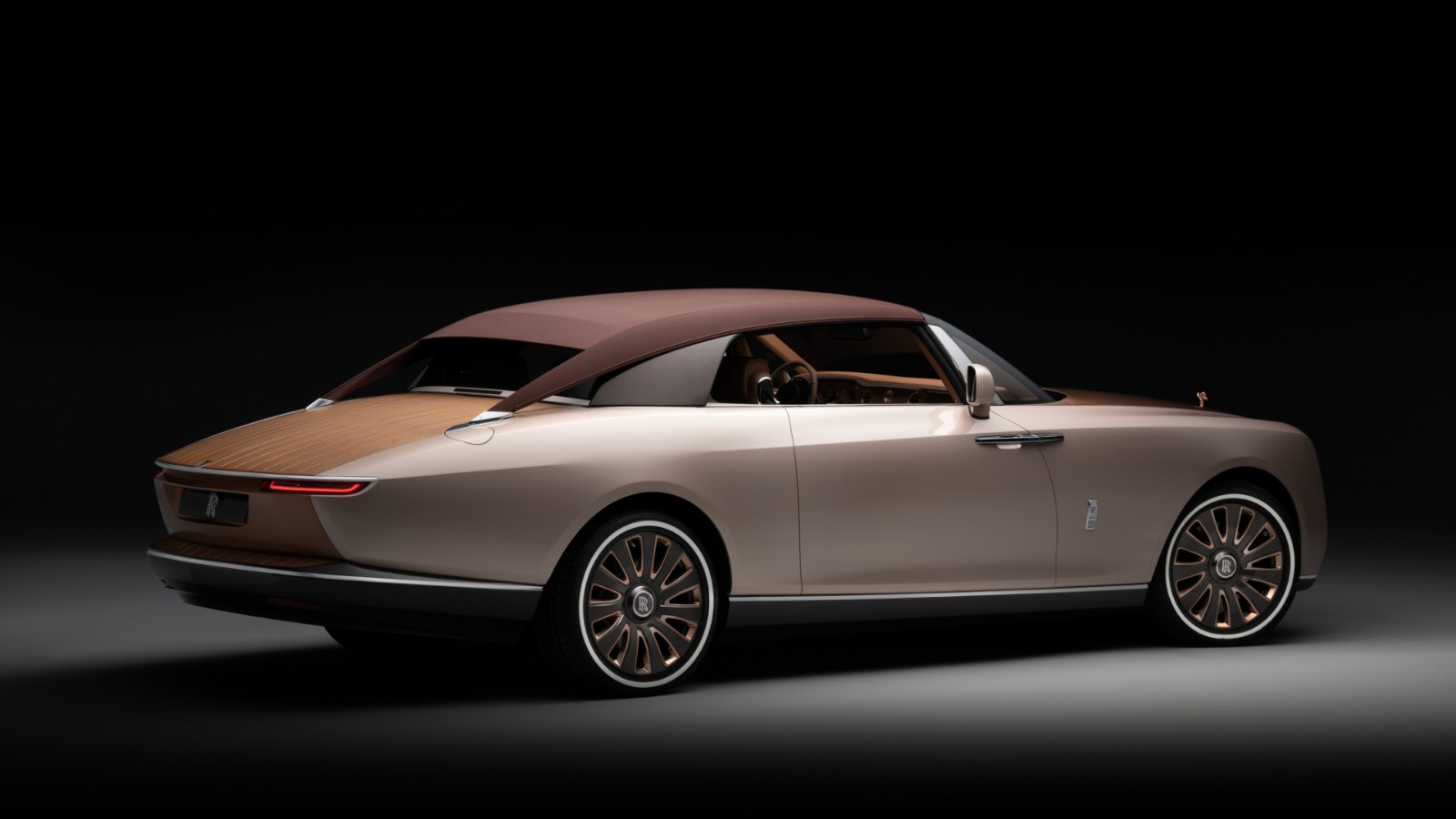 Priced at an eye-watering $28 million, the Rolls-Royce Boat Tail has set a new benchmark for automotive luxury, surpassing the Bugatti La Voiture Noire's record. This staggering price tag ensures that the Boat Tail exudes a symbol of exclusivity and prestige.
An Affluent Legacy: A Symphony of Prestige
The Rolls-Royce Boat Tail transcends the realm of conventional automobiles; it is an embodiment of a legacy steeped in opulence and exclusivity. The very first owners of this masterpiece were Hollywood's favourites, Jay-Z and Beyoncé. They are the two titans of the entertainment world whose affinity for luxury knows no bounds. The eye-catching hues of the majestic colour blue tell a personal story. It is an ode to their daughter, Blue Ivy, whose name resembles the primary colour of this most expensive car.
A Glimpse Into Rolls-Royce's Future
As the automotive industry embraces a new era, Rolls-Royce stands at the forefront. This company is committed to staying at the top, becoming the prime example of luxury. Coach-built cars like the Boat Tail represent the zenith of automotive artistry. These out-of-bounds cars, born from dedication, skill, and unthinkable creativity, become a canvas upon which innovative solutions for future Rolls-Royce models are forged. The Boat Tail's design is a precursor, signalling their unwavering commitment to redefining luxury for future generations.
By creating the Boat Tail, Rolls Royce gave the world a new threshold of luxury. They welcomed us into a world where luxury knows no bounds, innovation and tradition come together, and grandeur takes on its most perfect form. This dream-born and skillfully-realized most expensive car is evidence of the ongoing appeal of the Rolls-Royce marque.