No matter how luxurious your stay is, you look for something out of the box that would give you more of an adventurous feeling. There are such best unique resorts worldwide to satisfy your wanderlust and adventure for the eccentric and adventurous traveller seeking to escape everyday life's monotony. There are many unusual and quirky hotels worldwide, from sleeping in an old lighthouse to a library bookshelf. 
Your wish list deserves more than a routine hotel stay within four walls. In contrast to other lists of unusual hotels, we didn't only choose the priciest options available. Not only are the rich and famous able to stay in calm, distinctive, and unique resorts. With such unique resorts starting at just $6 per night and going up to an absurd $50,000, this unique hotel list will fit any budget.
Let's look at the 5 best unique resorts in the world.
Also Read: Top 10 yoga retreats of the world
5 Best Unique Resorts In The World
The Manta Resort, Tanzania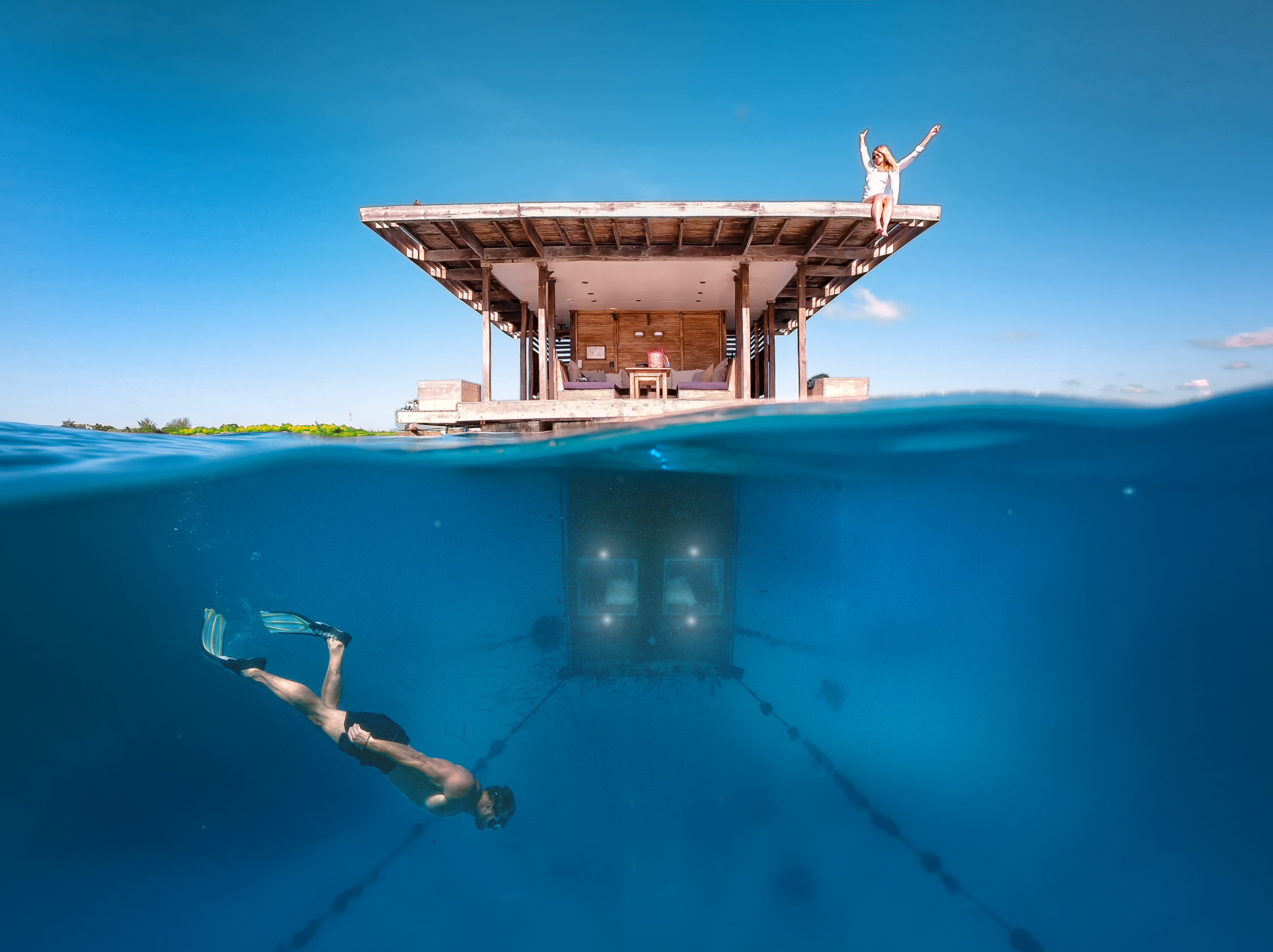 This has to be on the top of the unique resorts list. How about staying underwater? Yes! A room underwater where you can experience the flora and fauna of the ocean while you are ideally lying down in your room. This is what the Manta Resort has to offer.
The ultimate honeymoon extravagance is the underwater room at Manta Resort. Guests get access to an above-water living area on a private floating island and a fully submerged bedroom. Guess what? You can only reach this resort by speedboat.
The Manta Resort is an extraordinary jewel in the crown of luxury and is situated on Pemba Island in Zanzibar. It's a component of a clever floating construction. Three tiers are present. You are dropped off by boat at the landing deck, which has a lounge and restrooms. The top floor contains daybeds with shades for lounging during the day and viewing the stars at night. They claim that you can see the Milky Way and the planets because of the lack of light pollution. The submariner chamber, a bedroom bubble where fish swim by your window, is below sea level at this unique resort.
Levin Iglut Golden Crown, Finnish Lapland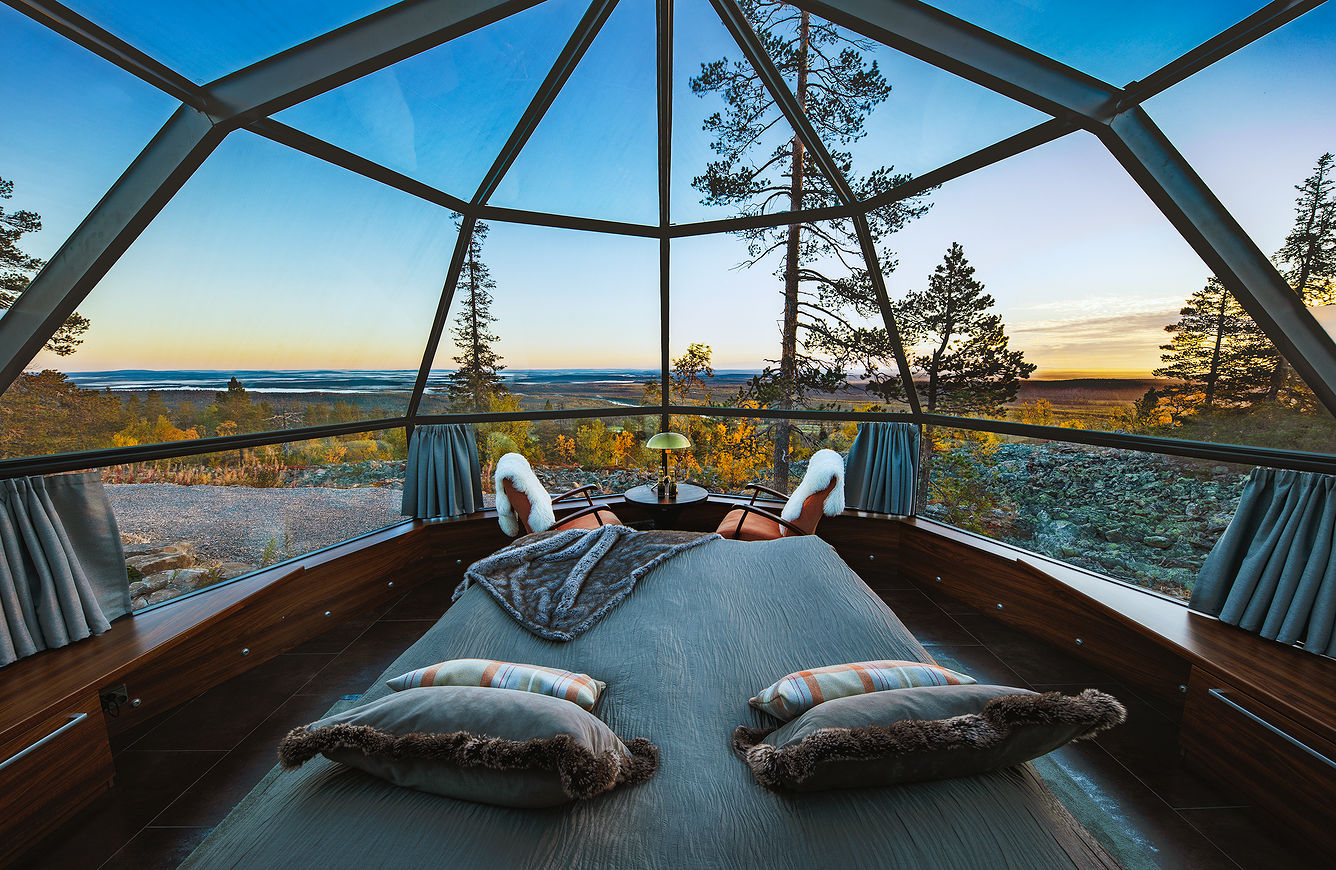 Have you ever thought about living in an igloo, one made of glass? Well, you have the option if you are an adventurer at heart. A luxurious boutique hotel in Finnish Lapland, Levin Iglut Golden Crown is housed in a glass igloo. 
The extraordinary vision is motivated by nature's grandeur, mystique, and alluring beauty. For our urban guests, the hotel offers the ideal getaway to the outdoors thanks to its tranquil, small ambience and top-notch amenities. The exquisitely crafted glass-roofed igloos provide their visitors luxury amid nature, with a view of the untamed fell landscape, first-rate lodging, and kind, attentive service.
In addition to being impeccably designed, each igloo has heated, non-fogging glass, air conditioning, a kitchen, a shower and a bathroom. For those who wish to post every detail of their journey on social media, there is also Wi-Fi! The possibility of seeing the Northern Lights as they dance across the sky above is what makes staying in Levin Iglut so alluring.
Hotel Costa Verde, Costa Rica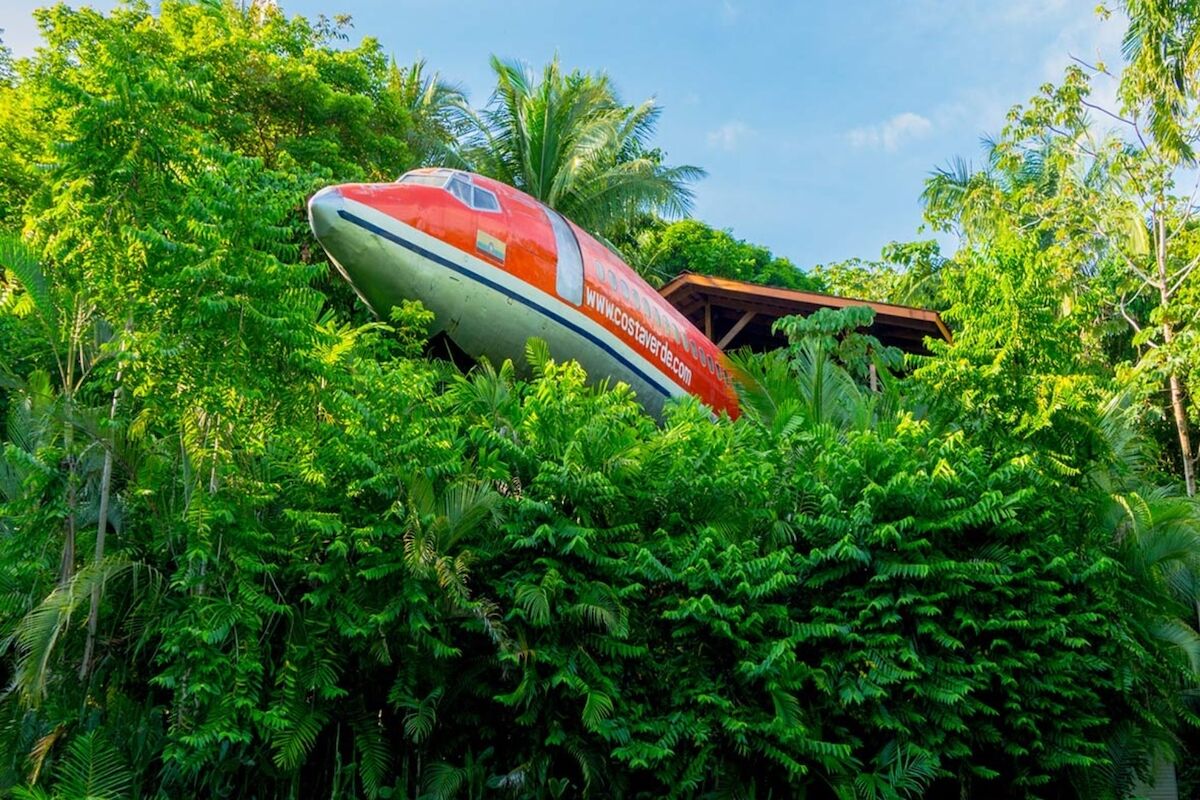 Imagine! Just picture yourself waking up to a breathtaking beach view while living in a plane with all the abundant facilities. It sounds adorable but ridiculous. Right? Not exactly, as the Costa Verde Resort in Costa Rica transformed a Boeing 727 fuselage into a hotel suite that provides its guests with an exceptional stay, making it all feasible. So, without further ado, hop on a plane and head to Costa Rica for a little getaway. 
The historic Boeing 727 has been transformed into an unique resort tucked away in Manuel Antonio National Park. Everyone's attention has been drawn to this two-bedroom hotel suite for all the right reasons. You'll be startled to see what's inside, despite the fact that it appears to be a plane that crashed into the bush. Two air-conditioned bedrooms with queen-sized mattresses and private bathrooms greet you as you ascend the spiral staircase and enter this renovated aeroplane. A terrace with a view of the vast Pacific Ocean, a kitchenette with a microwave, and other amenities.
Not to mention that this Boeing is only 100 metres from a cockpit cottage, which is accessible by a suspension bridge in a picturesque environment of thick jungle. According to reports, the most upscale hotel in Costa Rica is this Fuselage residence, encircled by jungle on all sides.
Also Read: Top 10 best places in Spain
Santos Express, Mossel Bay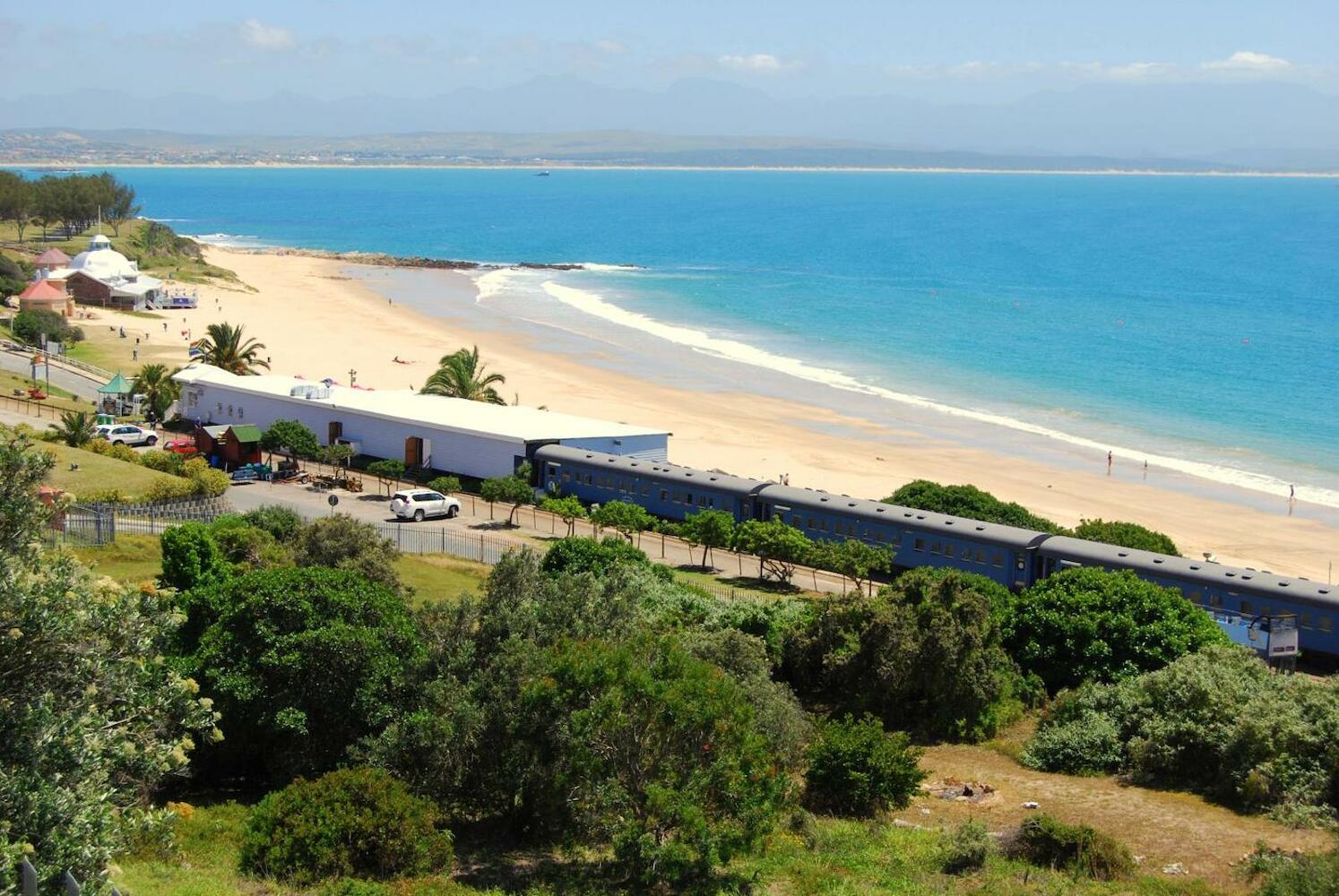 Have you ever travelled by train while watching beautiful scenery pass by? If the train stopped here, I could continue exploring everything. By boarding The Santos Express, you may finally make that fantasy a reality! Near Santos Beach in Mossel Bay, South Africa, this halted train is only a few yards away. This train is ideal for travellers seeking the comfort of beachside housing, and it has many amenities to satisfy visitors.
There are 5 coaches total on the Santos Express, 4 of which are identical. These four include two bathrooms, a shower, and five compartments accommodating up to six people. The fifth coach, a 16-bed hostel with a living space, is ideal for lone travellers. Book one of their newest Royal Suites if you want a luxurious stay on the Santos Express. With a clawfoot tub, these beautiful antique wooden coaches were shipped from England.
The Fork and Train Restaurant, located inside the Santos Express, specialises in seafood, as might be expected given its surroundings. The menu at this unique resort includes fresh oysters, garlic snails, ostrich salad, and other dishes. A short train ride will take you to fantastic meals and breathtaking scenery! This unique resort is worth a visit.
The Lighthouse, Norway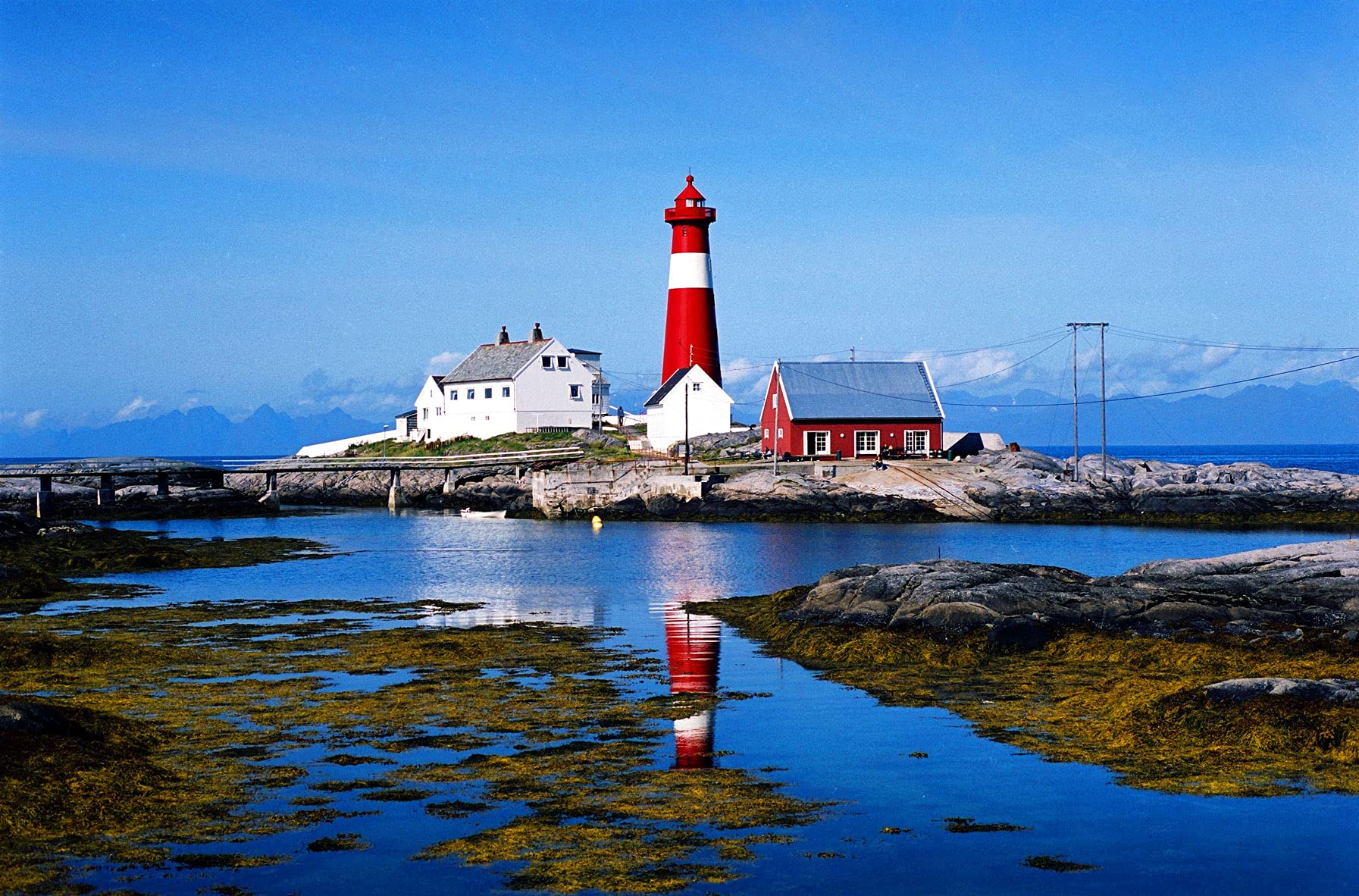 A trip to a lighthouse is like sitting in the royal box at a play because you get the absolute most incredible view. The Trany Lighthouse's repertory includes everything from the tranquil summer play of lazily rolling waves and a sunrise breeze to the frigid melodrama of storm and fury. Although the setting could not be more dramatic, the service is first-rate.
For guests, one-bed, two-bed, and family units with shared or separate bathrooms are available in modest and significant sizes at Trany Lighthouse. Additionally, a few kitchens are open for self-catering. 
The lodging is only available in the summer at this unique resort because it is not adequately insulated for use in the winter and does not have enough electricity or water. Some visitors relax and enjoy the opportunity to breathe in the clean sea air, duck when the terns dive, or converse with the welcoming hosts, Inger and Villy, over coffee. More adventurous visitors use Trany as a base to explore the numerous attractions on the road opposite the E6.
Final Thoughts
Each of these best unique resorts offers a unique stay with a unique twist, whether you have a specific experience in mind or are just searching for something different. Why would you choose a basic hotel room when you could dine with underwater life or immerse yourself in history in these unique resorts?
Also Read: World's most expensive theme parks